Atlanta Comedy
---
---
Friday October 22, 2021 08:00 pm EDT
Arts Agenda, Food and Drink::Beer Events, Nightlife, Nightlife::Comedy
Support some of Atlanta's best stand-up comics and enjoy a night of laughter and beer under the stars.
[
click here for more
]
USER SUBMITTED
Saturday October 23, 2021 08:00 pm EDT
Nightlife::Comedy
Website: Rickey Smiley returns to Cobb Energy Centre for another night of laughs! [
click here for more
]
Saturday November 6, 2021 08:00 pm EDT
Nightlife::Comedy
Website: For more than twenty years, Bill Maher has set the boundaries of where funny, political talk can go on American television. First on [
click here for more
]
Wednesday November 10, 2021 08:00 pm EST
Nightlife::Comedy
Categories: Cocktails
A night of Atlanta's finest standup comics and craft cocktails at Old Fourth Distillery.
[
click here for more
]
USER SUBMITTED
Comedy Clubs and Venues
After eight years intown, the Funny Farm comedy club moved into the Andretti Karting facility in Roswell — because if anyone needs a good laugh, it's OTP-ers. |
more...
Popular Atlanta institution for serious slacking, burger eating, and drinking. Home to the Laughing Skull Lounge comedy club. |
more...
The longest-running African-American comedy club in Atlanta, Uptown Comedy Corner has featured Chris Rock, the Wayans Brothers, Steve Harvey and Chris Tucker in the more than 20 years it's served Atlanta's Westside. |
more...
Scope out the glossy head shots that line the walls of this barely OTP comedy institution and you'll see that everyone from John Stewart to Jeff Foxworthy has performed here. It's an excellent place to take a date, but don't sit too close to the stage — lest you be heckled by the talent. Reservation... |
more...
Since 2008, this hole-in-the-wall comedy venue has hosted improv comedy multiple nights a week as well as stand-up and sketch comedy. |
more...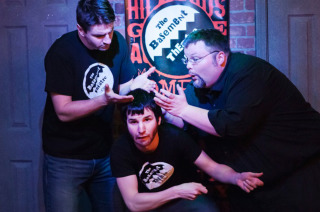 The Basement Theatre hosts improv comedy shows every Friday and Saturday. |
more...
Dad's Garage is a non-profit comedy theatre located in the heart of Atlanta's historic Old Fourth Ward neighborhood. With award-winning Atlanta improv comedy, scripted shows, and a fully-stocked bar, we're a major part of Atlanta nightlife and a great venue for date night. Come see us Thursday throu... |
more...
Atlanta's best full-time option for seeing stand-up is an intimate venue tucked away in the back of Midtown's Vortex Bar & Grill. The Laughing Skull Lounge has featured Marc Maron, Kyle Kinane, Maria Bamford, and countless other quality stand-ups. |
more...
---
CL Comedy Archives
Wednesday March 28, 2018 11:02 am EDT
Carlos Giron, an improvisational comedian, is fondly remembered for his joyous spirit and ability to have the room broken in laughter  |
more...
Thursday April 26, 2018 05:00 am EDT
Friday April 27, 2018 05:00 am EDT
Tuesday May 8, 2018 12:12 pm EDT
The nationally touring comedian stops by ATL May 17-19 |
more...
Thursday June 7, 2018 01:31 pm EDT
You have six chances (June 7-10) to check out one of Atlanta's finest, don't screw this up. |
more...
Friday June 22, 2018 07:56 pm EDT
Meet the crew that's taking over the Fox Theatre on June 23. |
more...
Thursday August 9, 2018 11:59 pm EDT
The comic and ATL original returns to his former stomping grounds with his Oh Come On Tour |
more...
Tuesday September 18, 2018 01:28 pm EDT
The edgy comic stops by ATL on her 'Laugh Your Head Off' world-wide tour |
more...
Thursday December 6, 2018 09:51 am EST
A product of the Chicago stand-up scene, Beth Stelling seems destined for greatness. Her second album, "Simply the Beth," and Comedy Central half hour special were lauded by Splitsider and The Interrobang as one of the best for 2015. Since then, Stelling has been regaling audiences with her Midwestern charm and wit on Netflix's "The Stand-Ups," "Conan," "Jimmy Kimmel Live," as well as writing... |
more...
Saturday December 8, 2018 10:24 am EST
Everyone's favorite know-it-all swings by Center Stage on December 14 |
more...
Thursday January 10, 2019 11:46 am EST
The two improvisers bring wit and hilarity to the Tabernacle  |
more...
Saturday November 2, 2019 09:54 am EDT
Hey, y'all! What's the move? |
more...
Monday December 9, 2019 11:58 am EST
Monday December 16, 2019 01:55 pm EST
Monday February 3, 2020 12:19 pm EST
---
Comedy Shows in Atlanta