First Look: El Super Pan
Chef Hector Santiago's Latin sandwich shop lives on at Ponce City Market
Wednesday January 20, 2016 04:00 am EST
El Super Pan Latino Sandwiches and Bar is the brainchild of chef Hector Santiago, popular for his well-remembered former Poncey-Highland restaurant Pura Vida, and for various sandwich and burrito pop-ups he's held around town since Pura Vida's 2012 shutter. Santiago is one of Atlanta's acclaimed chefs whose name has shown up three times in the James Beard Foundation "Best Chef of the Southeast" finalist awards and has appeared on Bravo's "Top Chef."
Located inside Atlanta's newest hot spot, Ponce City Market, El Super Pan sits at a busy corner of the food hall. Long lines form at lunchtime for grab-and-go orders, while a few diners land a seat at the bar. The ambiance takes to the streets of Puerto Rico, with a bit of an urban twist. Anyone sitting at the counter is encouraged to watch the chefs in the kitchen as they work and strike up friendly conversation. Santiago and chef Pedro Matos (formerly Cakes and Ale, Pura Vida), along with the rest of the staff, wear bright red shirts and sun hats, which gives the casual eatery a beachfront feel. There's seating for about 20, both at the counter and communal tables, as well as additional tables in the hall's main courtyard. On the corner is a little gift shop, where you can purchase the prominent Super Pan hats, as well as nostalgic Latin American trinkets such as colorful bags, chili-flavored oils, and canned tuna.
The Puerto Rican cuisine is heavily influenced by Spanish, Cuban, and Mexican cultures, which is exactly what you can expect to see at El Super Pan, with a little international influence as well. Ingredients such as corn, beans, pork, plantains, cilantro, and chiles make their way into many of Santiago's dishes.
Super Pan's 20-or-so-item menu features Latin-fusion sandwiches, sides, and snacks. Pan con tamate y anchoas ($3) is a toast topped with slices of fresh anchovies, chopped tomatoes, and lots of herbs. This small plate is packed with flavor and great for sharing. Made-to-order fried snacks such as tostones ($3) and yucca frita ($3) are served with a choice of homemade dipping sauce: aioli, cilantro chimichurri, or chipotle mayo ketchup. The yuca al aji amarillo salad ($4.50) is a Latin take on the common potato-egg salad.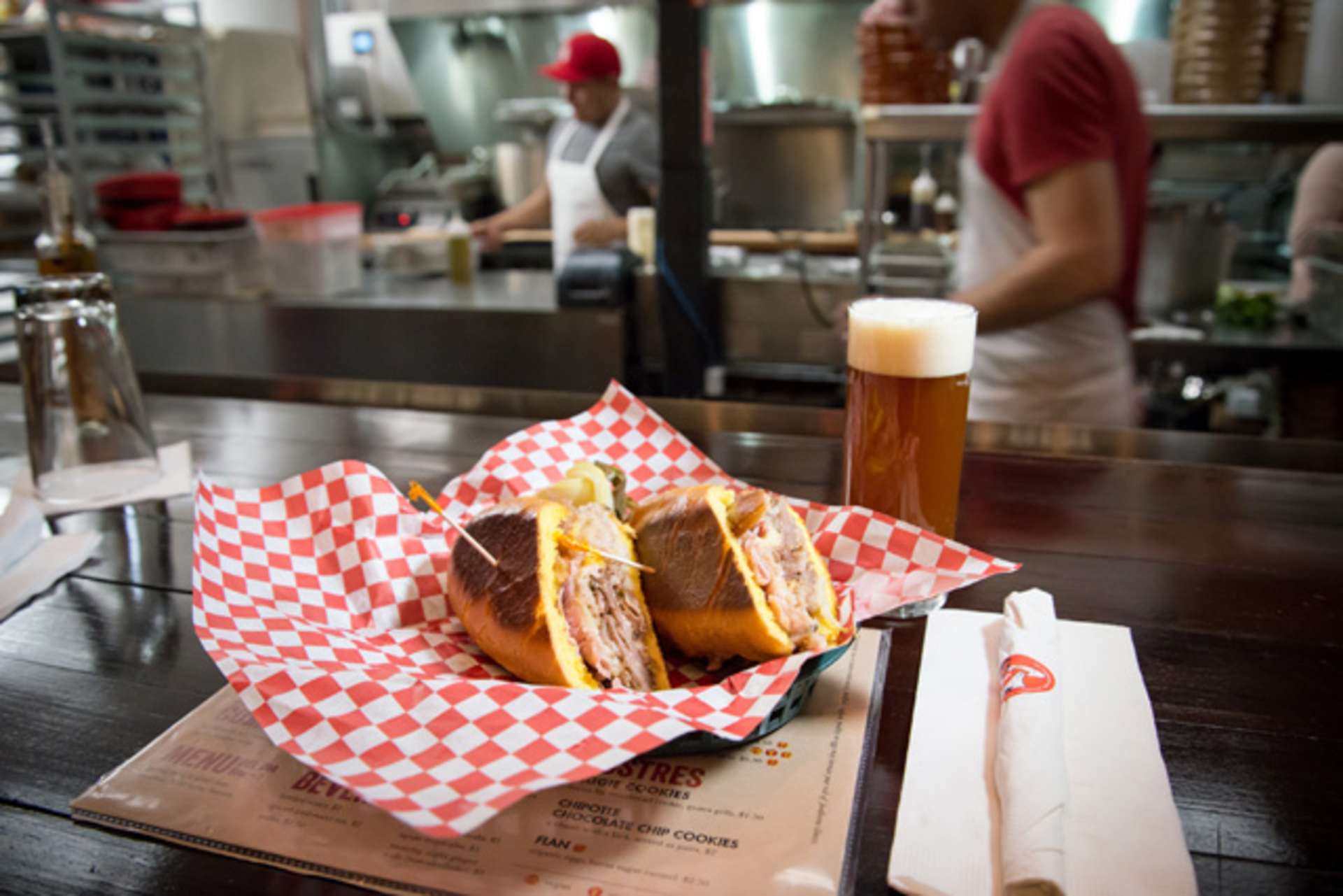 >
Santiago's personal favorite is the Medio Dia ($14), a pressed sandwich on a submarine roll with crispy pork skin, adobo-roasted pork, clove ham, chayote pickles, Swiss cheese, and pineapple-habanero mustard. The smoked tofu bun ($4) is an affordable vegetarian sandwich with grilled smoky tofu, salted cucumbers, and toasted pumpkin seeds stuffed into a steamed bun. Santiago's popular pork belly steamed buns ($5.50) are on Super Pan's menu, as well. Everything is served informally in baskets or small bowls.
Dinner specials, which become available after 6 p.m., change nightly as do the fillings for the pastelillitos del dia, or savory stuffed pies. Ramen noodle soup ($6) and Cuban adobo ($16), both comforting on a chilly winter night, were recent dinner offerings. Desserts here include cookies and a rotation of homemade flans that come in flavors such as cardamom, caramel, chocolate, and chili.
The hearty sandwiches pair well with a glass of malta ($3), a fizzy malted beverage brewed by Atlanta's Second Self Beer Company. For sweeter flavors, try the fruit-flavored agua frescas ($3).
Super Pan will begin serving Latin-inspired cocktails as soon as its liquor license comes in. Keep an eye out for piña coladas, pisco sours, mojitos, and caipirinhas. The beer list will highlight Latin favorites such as Presidente, Victoria, Imperial, Negra Modelo, plus local brews, available on tap and in cans. A small list of wines will feature bottles and keg wines from Argentina, Chile, and Spain.
More By This Writer
Authentic flavors of Southern India in Smyrna
Wednesday November 26, 2014 04:00 am EST
Erstwhile East Andrews proprietors bring Neapolitan flavors to Peachtree Center
Monday October 31, 2016 02:00 pm EDT
South African eats at Ponce City Market
Monday March 21, 2016 04:00 am EDT
Contemporary taste of Turkish history
Monday October 20, 2014 04:00 am EDT
More Indian street food from the creators of Chai Pani
Wednesday May 11, 2016 04:00 am EDT
Search for more by Sucheta Rawal