First Look: Madre + Mason
The full-service restaurant from the women behind Urban Cannibals makes weird work
Monday January 25, 2016 04:00 am EST
Calavino Donati is a foodie warrior. She's best known for her restaurant Roman Lily, which opened in 1997 and arguably led the Old Fourth Ward's redevelopment. It drew large numbers for 10 years. After the real estate crash and recession, Donati literally lost everything, and eventually opened a small deli-bodega, Urban Cannibals, in East Atlanta Village with her wife, Doria Roberts, a well-known performer and activist. They had only a hot plate and a George Foreman grill. And they got a lot of publicity.
Now, incredibly, Donati and Roberts have opened three restaurants at once. First, they moved Urban Cannibals to Midtown on Fifth Street where Las Palmeras was. It's now a full-service lunch-and-dinner spot. Second is Tipple + Rose Tea Parlor and Apothecary on North Highland Avenue. Third is Madre + Mason, the most ambitious of the three, located in Morningside.
I was shocked when Donati and Roberts chose the restaurant's location. It's in a building that has housed one failed restaurant after another, the last one being Couscous. Donati told me that she expects business to get better and better as pedestrians on the nearby Beltline discover the restaurant. It's only open for dinner now, but will add lunch and brunch soon.
Madre + Mason features a fusion of Southern and Latin American cuisine. The name "Madre" is Spanish for "mother" and is meant to honor the owners' mothers. "Mason" is meant to suggest the Mason jars so popular in the South. (It also connotes the Mason-Dixon Line, but that's not intended!)
So, would their mothers like the food? No doubt. There are occasional problems, but they are mainly the kind that inevitably occur when chefs experiment. My longtime belief is that if there aren't bloopers on a menu, there likely isn't going to be much that is compellingly unique. So it goes with any form of art.
Donati's cuisine at M+M remains as homey as it was at Roman Lily. Her signature dish there, turkey meatloaf, reappears seasoned with poblano peppers and draped in thick jalapeño-tequila gravy. The plate also contains a mountain of pureed, garlicky mashed potatoes and a bed of long-cooked collards seasoned with chipotle. It's got all those homemade meatloaf features — a nice crunchy exterior and a meaty, seasoned interior without too much of the usual greasiness. Thank you, turkey.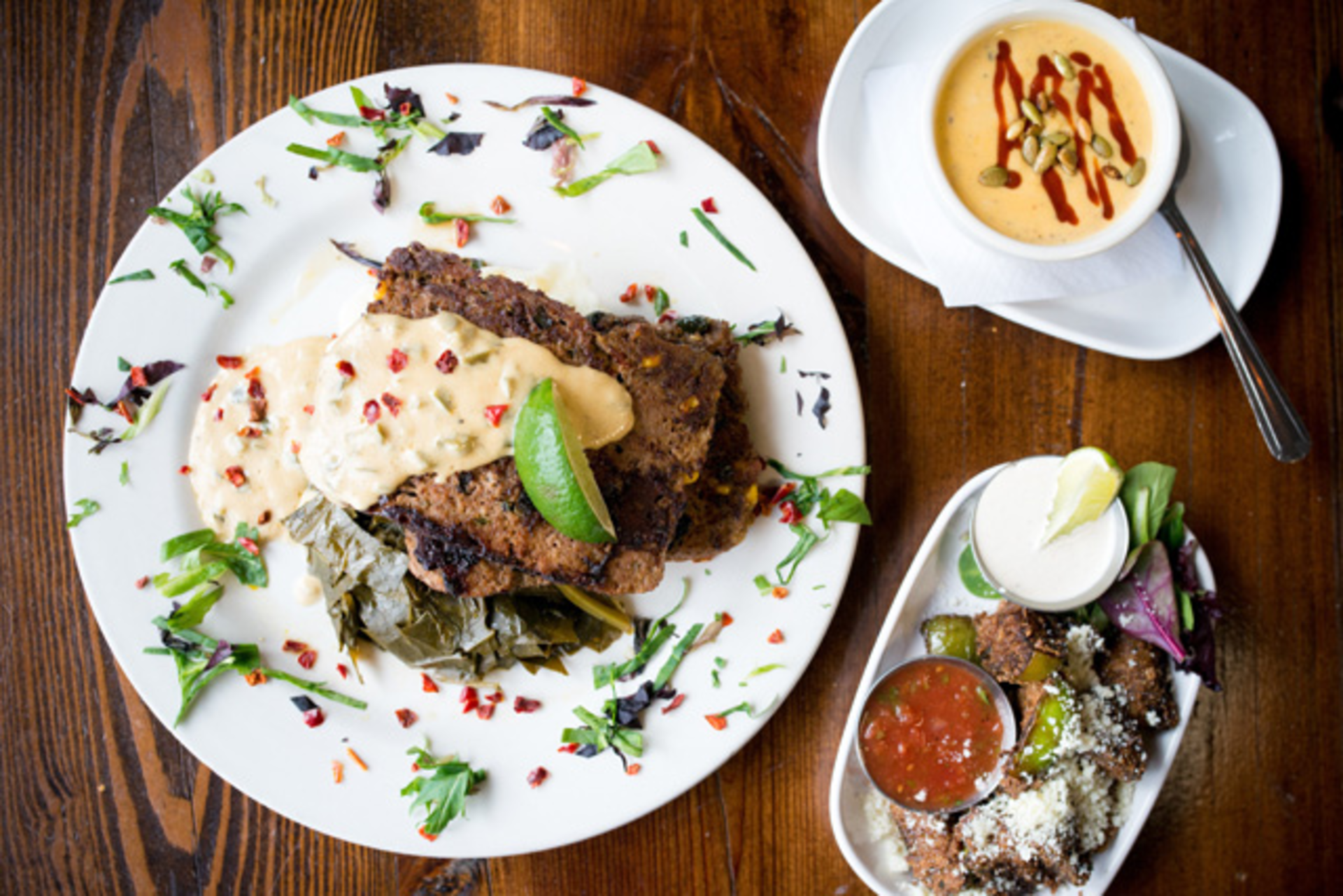 >
But here's the problem for me. Despite all those touches of usually mild, piquant peppers, none heated my palate or my friends'. We all know why. Donati told me that as soon as she opened, she started getting complaints about spiciness. So she had to tone it down. That doesn't mean you don't get good, often interesting tastes, but the fire ain't there.
The same occurs with a sweet-potato bisque with ancho-spiced coconut milk. For me, it was too sweet and needed a bolder touch of the ancho. But my spice-fearing tablemate loved it just as it was. His entrée was probably my favorite of all — a bowl of grilled cod on a bed of wilted spinach, swimming in a butter sauce tart with lemon, lime, and orange zest, plus mild jalapeños. Cod is a fish that often can't stand on its own, being so mild, but Donati grills it to flaky perfection, bringing out its full flavor. The sauce will seriously prompt you to ask for a spoon.
My favorite starter so far has been lightly batter-fried tomatillos with crumbled cotija cheese and chipotle aioli. Tart, juicy, and crisp, they stand on their own without the aioli, but dip away, if that's your thing. An anything-but-small plate of glossy chicken wings features chipotle-agave flavors. They are delicious and really don't need the side of buttermilk dip. A thick, slightly chunky version of classic queso is made with smoky Gouda cheese and easily fills the bellies of three or four people. You can pare down with a pair of deviled eggs spiced with trendy ancho-espresso. I'm familiar with its use on meats, but not on eggs. I expected it to be sprinkled atop the eggs, but there was none. Maybe it was stirred into the yolk filling.
Want to try something really weird? The menu has five tacos. I ordered one whose flour tortilla encased grilled Brussels sprouts and sun-dried figs, along with some slaw and cotija. It actually works! The sprouts are slightly charred and soft with a slight crunch, amplified by the slaw, and made even earthier by the figs.
I've also tried the buttermilk-brined fried chicken, served with those same Brussels sprouts and figs. The chicken is as good as any around town, but spiced with a very heavy dose of cumin. As much as I criticize my friends for their spice-o-phobia, I'm not terribly fond of cumin except when it's used in super-hot Sichuan cooking. Those fiery, numbing peppers do something mystifying to it. But Donati's chicken works as it is. The guac, incidentally, is also strongly cuminized here.
Finally, I've tried one dessert — a big slice of my favorite pecan pie topped with vanilla ice cream drizzled with caramel sauce. It's made by Southern Sweets Bakery. Did I say "big"? Believe me, all portions here are huge.
Service at the restaurant is still a bit rocky and Donati, as she always did at Roman Lily, frequently leaves the kitchen to greet customers. Despite my yearning for bolder spiciness, I've visited three times and will most certainly return. I'm especially anxious to try her mole.
Editor's note: This story has been updated to correct information regarding Roman Lily. The restaurant opened in 1997 and closed in 2007.
More By This Writer
Wednesday October 1, 2008 12:04 am EDT
Wednesday October 8, 2008 12:04 am EDT
Wednesday November 12, 2008 12:04 am EST
Wednesday December 17, 2008 12:04 am EST
Wednesday December 31, 2008 12:04 am EST
Search for more by Cliff Bostock