Catching up with Red Brick Brewing
Georgia's oldest operating brewery celebrates 24 years in the biz this weekend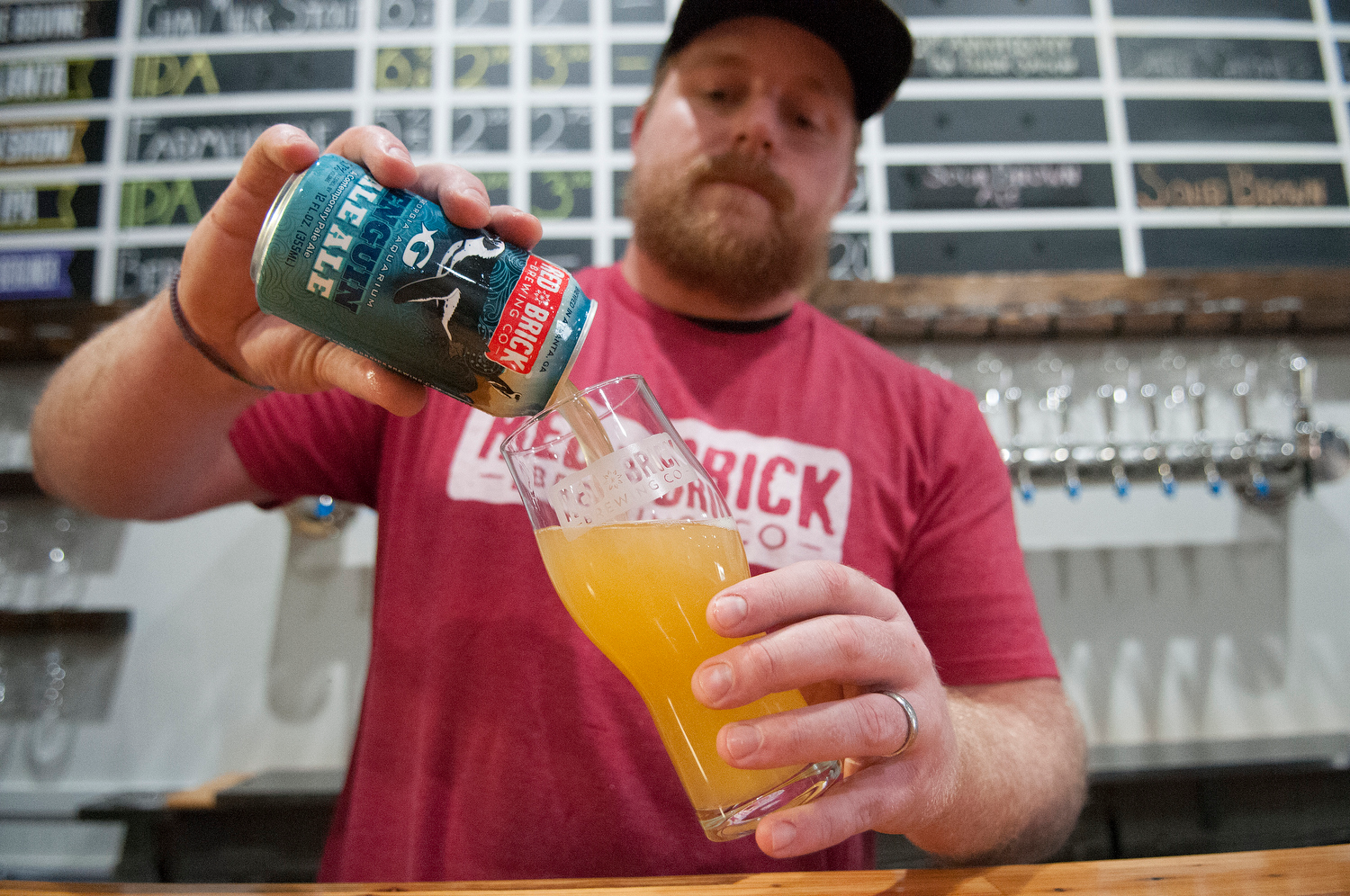 At the height of the American Civil War, Union General William Sherman marched through the Southeast to capture the port of Savannah, leaving a burning Atlanta in his wake. The mayor of Atlanta made a promise that the city would rise from the ashes like a phoenix and be rebuilt "one red brick at a time."
At least, that is legendary origin story of Red Brick Brewing's name, as company president and brewmaster Garrett Lockhart tells it. After 24 years, Georgia's oldest operating brewery has worked hard to earn its reputation for community collaboration and an artful dedication to the brewing craft.
In 1993, former Guinness executive Greg Kelly moved to Georgia with aspirations to bring traditional English-style brewing to an untapped market with only a modest brewing community of its own. From an old brick warehouse in West Midtown, Kelly built Atlanta Brewing Company, a traditional English-style brewery complete with pine vats and a large red malt mill, which is still in use today.
"The red mill is one of my favorite things to show people on tours," Lockhart says. "Kelly refurbished it from an old brewery in England from the ???20s that was destroyed by bombs during World War II."
Over the next decade, Atlanta Brewing Company solidified its dominance of the Atlanta brewing scene by producing accessible and reliable English lagers and ales, including the flagship "Red Brick" beer and a rotating cast of seasonal brews. Red Brick quickly became a recognizable name in Atlanta's bars and restaurants, most notably at the Vortex Bar and Grill.
"That partnership goes way back to the beginning days of the brewery," Lockhart says. "The owners of The Vortex used to hang out at the brewery all the time." Kelly brewed the original Laughing Skull bohemian pilsner just for them, which later developed into an approachable, easy-drinking amber ale series.
In 2005, Kelly left the company in the hands of management consultant Bob Budd, who relocated the operation to its current home in northwestern Atlanta. Lockhart started working for Atlanta Brewing Company in late 2010, around the same time the brewery changed its public name to Red Brick Brewing Company. He quickly progressed from entry-level production and scrubbing kegs to Brewmaster and by 2015, was promoted to president.
"Greg Kelly wanted to brew English ales but that isn't really part of what we do anymore," Lockhart says. "When I first moved to Atlanta in 2002, there was no beer over 6 percent alcohol I thought I had moved to the wrong city! I think it has been a steady progression since then, and now we can brew beer up to 14 percent.?۝
data-embed-type=%22image%22 data-embed-id=%2259cc01c156ab460361b0dc11%22 data-embed-element=%22span%22 data-embed-size=%22320w%22 data-embed-align=%22left%22 contenteditable=%22false%22}_display" style="display:inline;">No value assignedLockhart has pushed to maintain Red Brick's veteran brewer status by producing experimental brews like Beard Envy Barleywine and the original Vanilla Gorilla, alongside the reliable Red Brick flagship and Hoplanta IPA. The brewery now packages most of their beers in cans, a sustainability effort that has led to a long-term partnership with the Georgia Aquarium, starting with the collaborative production of Whale Shark Wheat ale last spring.
Red Brick's photodegradable aluminum cans are made to decompose from sunlight exposure, which helps to preserve the aquatic habitats of endangered species like those found in the aquarium. The brewery will produce limited-edition seasonal brews named for a particular species, and a portion of the sales for each beer will benefit the Georgia Aquarium's global conservation effort for that animal. Penguin Pale Ale, a 5.7 percent contemporary ale named for the endangered African Penguin, will be available on draft at Red Brick Sept. 28 and in select stores Oct. 2.
Now operating in a sophisticated and competitive brewing market, especially after the implementation of Senate Bill 85, Lockhart is prepping Red Brick Brewing for long-term prosperity. "We've already completely refurbished our tasting room with a new bar and seating to create a space for people to come enjoy our beer and have a good time," he says. "Now we can treat this place the way that breweries around the country do."
With more freedom to serve within the establishment, Red Brick's new director of brewing operations, Gavin McKenna, is focusing more than ever on brewing interesting and creative new beers with fresh ingredients. Since joining the Red Brick team over the summer, McKenna have been hard at work producing new variants of Vanilla Gorilla, which will be tapped at Red Brick's 24th Anniversary and Vanilla Gorilla Release party, this weekend, featuring live music, food trucks and exclusive variants of their most popular beer, Vanilla Gorilla Imperial Porter.
McKenna promises four distinct versions of the brew flavored with natural ingredients, including one with coconut and coffee, one with hazelnut and cacao nibs, one with cinnamon and almond, and one that's bourbon barrel fermented. "The biggest thing the only thing for me is a focus on beer quality," McKenna says. "We want to be at the pinnacle of our quality and we want people who like our beer to enjoy it fresh, where it's made.?۝
Red Brick's 24th Anniversary and Vanilla Gorilla Release Party. $25-$75, 12-10 p.m., Sat., Sept. 30, Red Brick Brewing Company, 2323 Defoor Hills Road N.W. 404-355-5558. www.redbrickbrewing.com.
More By This Writer
Food and drink specials abound for Monday's reopening of the I-85 bridge, and more
Monday May 15, 2017 09:00 am EDT
Things to eat and do
Monday May 22, 2017 11:00 am EDT
The summer six-pack even beer drinkers can achieve
Thursday May 10, 2018 12:23 pm EDT
Well friends, we've had some strange weather this year, but we're bound to feel that famous Atlanta heat sometime soon. When that happens, it'll finally be time to crack open a cold one... or six. Your neighborhood craft brewers already have you covered with new seasonal releases and a couple of classic summer faves.
SweetWater Brewing Company | Tropical Lover Berliner Weisse

If you...
|
more...
Thursday June 1, 2017 05:36 pm EDT
Quianah Upton's Collective Impact Dinner Series brings important conversations to the table |
more...
Food happs this week
Friday June 16, 2017 08:39 pm EDT
Search for more by Alex Patton