Herbie Hancock is still learning
At 77 years old, the legendary jazz pianist reflects on Buddhism, Miles Davis and soaking up as much as knowledge as he can
Friday September 29, 2017 11:06 am EDT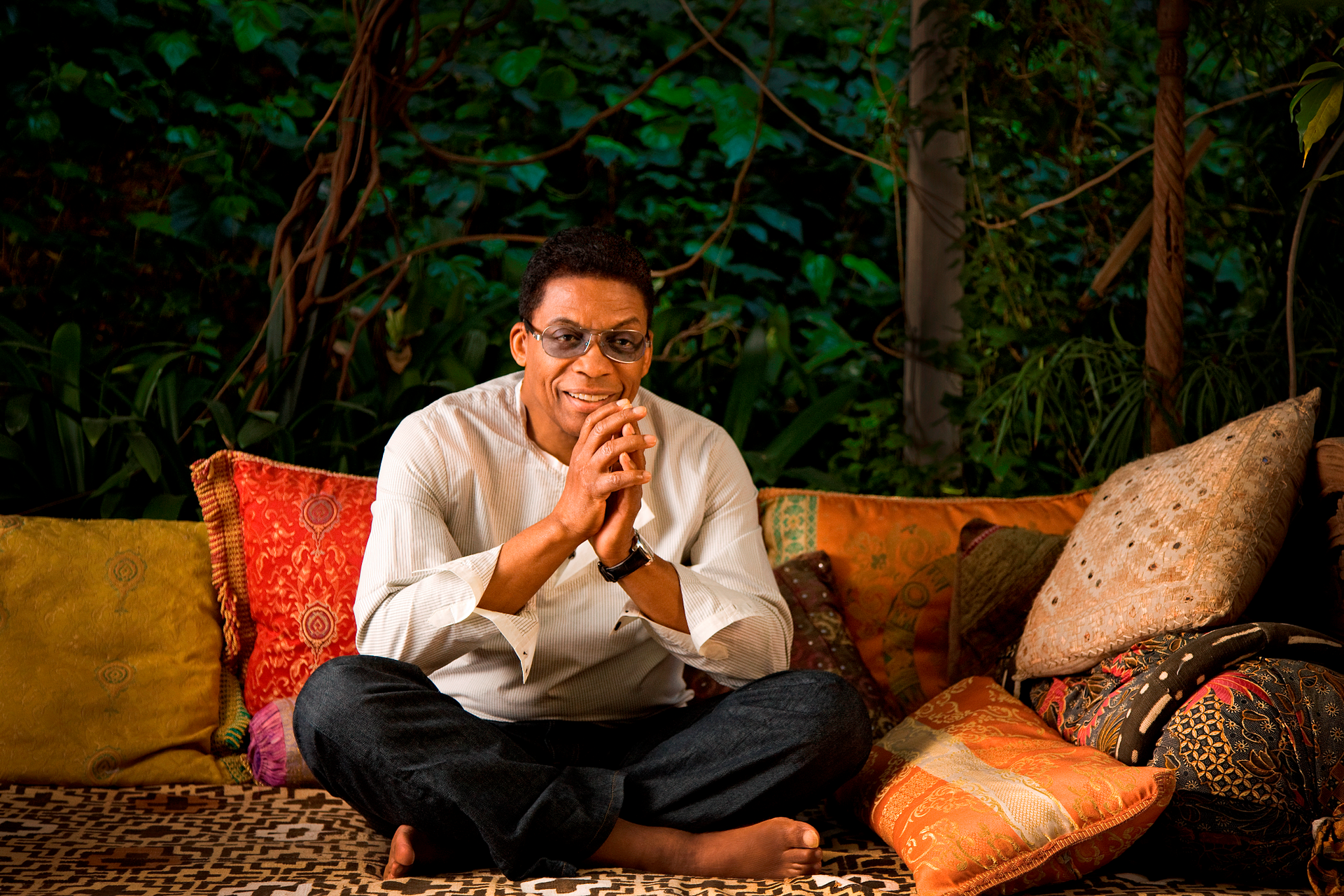 When
Herbie Hancock
laughs, it's hard not laugh with him. The 77-year-old jazz pianist seems to laugh often, whether it's about comparing the monk-like musings of saxophonist Wayne Shorter to Yoda, or shirking off the idea that he sold out on his 1974 jazz-funk classic,
Head Hunters
. After establishing a legacy that includes playing with Miles Davis in one of the greatest jazz ensembles of all time, pioneering the use of synthesizers, and single-handedly altering the trajectory of contemporary music, one could forgive Hancock for having a bit of an ego. But the legendary musician laughs, talks and muses with the humility of a student always yearning to learn more. Despite their status as musical powerhouses, Hancock and Shorter's most recent collaboration isn't a record, but a conversation. Earlier this year, Middleway Press released the book
Reaching
Beyond: Improvisations on Jazz, Buddhism, and a Joyful Life
, which features dialogues between the pair and Daisaku Ikeda, president of Soka Gakkai International (SGI). Jazz diehards will already know that Hancock and Shorter are SGI devotees, and understanding the interplay between their spirituality and music is crucial to grasping their creative process."In jazz, we're not judging each other as we're playing because that would inhibit the flow of the music, and that's very much in harmony with the Buddhism we practice," Hancock says. "Jazz is about sharing, so when we improvise in a band we treat whatever happens as though it was supposed to happen, which shows respect for the other person. Buddhism is also about respecting every human being.?۝In his autobiography,
Possibilities
, Hancock recalls learning a similar lesson from Davis decades earlier during a burning rendition of "So What" in the mid?60s. Just as the band was heating up and the crowd reached a fever pitch, Hancock played a wrong chord. Instead of ignoring the mistake, Davis immediately incorporated it into his solo, transposing what could have been a judgement into an opportunity. Hancock still vividly remembers the value of that freedom he experienced from Davis' willingness to take risks. "
Davis
told us, ???I pay you to try things,' and I said, ???Well what if the stuff that we try isn't working very well? What about the audience?,' and he said, ???Don't worry, I'll take care of the audience,'" Hancock recalls. "Now that's a dream job to be able to play with a boss that pays you to go outside of the box and just experiment with stuff, which was incredible.?۝Not content to let Davis get all of the credit, Hancock makes it a point to recognize the unmatched musicianship of the rest of that band, what has been dubbed Davis' so-called ???Second Great Quintet.' Aside from its leader, the rest of the band was astonishingly young. Bassist Ron Carter was in his late ???20s, Hancock was barely old enough to drink and drummer Tony Williams was only 17 years old when he joined the band. Despite Williams' youth, his ecstatic sense of rhythm made a deep impression on Hancock's technique.
"Every individual has their own style, but what
Williams
was doing was so far beyond what anybody else was doing on the scene," he says. "On piano, I wanted to translate the way he did counter-rhythms and the way he would go across the bar lines.?۝After the quintet disbanded, Hancock charted a course that, while often stylistically different, followed a series of dramatic shifts in line with Davis' fearless exploration. There's a famous story where an attendee of a 1987 White House reception for Ray Charles asked Davis what he did to be invited. He responded, "Well, I've changed music four or five times. What have you done of any importance other than be white?" Hancock could just as easily hold that claim, though it's doubtful he would say it with a similar bravado.
After his acoustic period in the ???60s, when the moody minimalism of his solo records
Empyrean Isles
and
Maiden Voyage
had already become standards, Hancock veered into the otherworld of electronic avant-garde experimentation. The shift marked one of countless times in his career when traditional jazz critics cried stylistic treachery, and fans were often too confused to keep up. Yet in nearly every instance, history proved Hancock right. Whether it's his use of the vocoder on 1978's
Sunlight
or his groundbreaking incorporation of early instrumental hip-hop on the 1983 LP
Future Shock
, he charted out new paths in spite of critical and commercial blowback.
"I've tried to stay true to myself every step of the way," he says. "If I got accused of this or that, I knew that I was doing what I felt in my heart that I wanted to do."He also pushes back on the notion that he sold out by shifting to funk, R&B, hip-hop and pop music."I actually wanted to go in those directions because I'm from Chicago; it's a blues town. When I was a kid I listened to rhythm and blues," he says. "It's part of my personal heritage and my ethnic group, we created that stuff. As far as electronics are considered, I was an engineering major when I was in college. So when synthesizers came along, I gravitated right away." His willingness to experiment with futuristic blends of electronics and R&B laid the groundwork for some of today's most exciting artists: Kamasi Washington's ambitious jazz compositions, Thundercat's genre-bending soul, Flying Lotus' hallucinatory trip-hop. All of these musicians grew up on Hancock. His reputation as a timeless innovator still holds true for his disciples, evidenced by his work on Flying Lotus' most recent album,
You're Dead!
"There's a whole new gathering of musicians that incorporate kind of an avant-garde essence with a gospel element, R&B and hip-hop elements, and bebop and post-bebop elements. That's bringing a whole new audience to jazz," Hancock says.And does Hancock, an artist who's spent his life on the cutting edge, think he has anything left to learn from musicians who were born years after he already changed the face of jazz?"Well," he says, "I'm always like a sponge trying to absorb as much as possible.?۝
Herbie Hancock. $90-125. 7:30 p.m. Tues., Oct. 17. Atlanta Symphony Orchestra. 1280 Peachtree St. NE. 404-733-5000.