Small Reactions roll with the punches
'Nerve-pop' quartet finds order with second album, 'RXN_002'
Monday July 31, 2017 03:36 pm EDT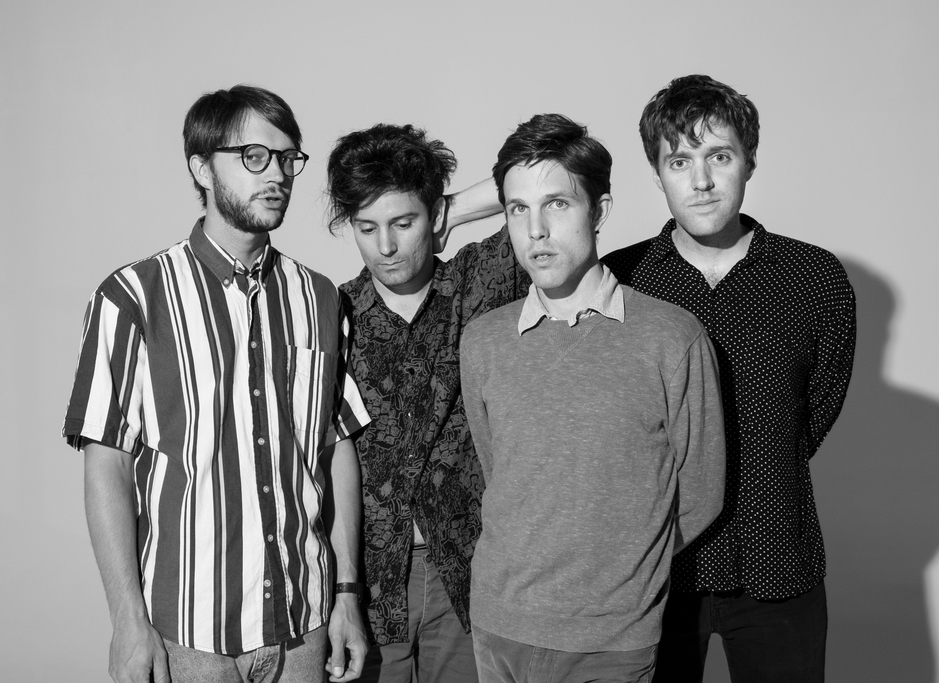 By now, nearly 10 years into a career playing music together, Small Reactions have learned how to roll with the punches. They've faced lineup changes, a nearly thousand-mile trek in a frigid van, fruitless label pitches, and even the all-consuming affair of raising kids singer and guitarist Scotty Hoffman has two to be exact. A less determined band would surely have hung it up already and moved on to other, simpler life ventures. But Small Reactions is no lesser band.
Core members Hoffman, drummer and CL contributor Sean Zearfoss, and bassist Clinton Callahan have persisted, refining the group's Krautrock and post-punk sound over a handful of EPs, singles, mixtapes and a debut full-length, titled Similar Phantoms. With their latest effort, a sophomore album titled RXN_002, released Aug. 4 via Bear Kids Recordings, the self-described "nerve pop" purveyors deftly balance noisy discord with a tempered, melodic edge. Take the opening title track, which, after a few steady strums of a chiming electric guitar, finds Hoffman uttering a series of incantation-like lines over an arpeggiated acoustic guitar; a blistering, fuzzed-out lead line quickly takes over the mix, accompanied by tinkling bells, launching the record into a sweetly chaotic frenzy.
While Small Reactions' music has always expressed a sense of immediacy rhythms that reel at breakneck speeds, propelled by Hoffman's teetering vocals their second full-length feels like they have a newfound comfort and control amid that helter-skelter blueprint. It's as if the brakes are out and the band is careening toward a cliff face, only to hit the switch at the last second, diverting course with a sly grin.
Finding this harmony, Hoffman says, has been a work in progress and is in large part the result of "being a compulsive, creative person put into the role of real life."
Hoffman is a father of two and happily married, but that doesn't change the fact that he constantly has melodies running through his head. "Sometimes it affects how present you are," he says. "You miss things. There's a lot of conflict in that.?۝
Despite those domestic responsibilities that demand so much time from his life, Small Reactions have stayed busy, putting out two major releases over the course of the past year on Bear Kids: a mixtape of songs, snippets and sound collages called Night Reactions: MIX 001 and, most recently, the Notorious EP, which was much the result of that frigid van ride north.
Back in 2013, the group loaded into a 1987 Dodge Conversion van and headed to New York to play a showcase for a few label reps, putting it all on the line for a chance at breaking through and securing stability in an industry fraught with anything but. "It was already brutally cold and it didn't help that the van had no heat. We bundled up, hoped for the best, and set sail," reads the the group's Bandcamp entry for Notorious. At the end of the night their performance didn't lead to much more than you can "find me on the internet," but the trip wasn't made in vain. Studio time had been booked at Brooklyn's Converse Rubber Tracks, where the band recorded Notorious and RXN_002 track "Controllerhead.?۝
"The label pitch was exciting and frustrating all in the same," Hoffman says. "It's like, you're in the running, but you didn't win or something. We didn't let it affect us it doesn't really matter. I'm still going to write songs and play shows with this group and we will get there in some way.?۝
After that, the band continued writing material in preparation for a new full-length, but conveying the songs live just didn't make sense as a three-piece.
"We had to reconfigure a bit after organist Sam Jacobsen left, and so it took a little longer than I would've liked," Hoffman says. "A second record was always planned, it was just a matter of personnel, I think."
Roughly six months after Jacobsen's departure, though, the band found what they needed. Former Del Venicci guitarist Ross Politi joined Small Reactions, adding what Hoffman describes as a "pretty dissonant" style to the group's sound. Politi's out-of-the-box thinking, especially in terms of production and bigger picture aesthetics has benefitted the band just as much as his idiosyncratic guitar playing. "I think we've hit a good sound with him," Hoffman says. "On ???El Dorado,' he suggested we fill water bowls and hit them with spoons. It was perfect for the song, and I would've never thought of it."
So Hoffman and co. keep rolling with it, putting to song those moments where a little bit of pleasure seeps through a hectic routine, or an otherwise joyful experience takes a dark turn. It's all there in RXN_002 the frantic, driving groove of lead single "Sessions Street," the beach-inflected surrealism of "Fatal Flaws," the homestretch catharsis of "Sliding Glass Nightmare" not a single element neglected.
"One of the best things I've learned is to not waste a day," Hoffman says, reflecting on an approach that applies to both the group's work ethic and source material. Though it may seem Small Reactions flirt ever so closely with the edge, it's these simple lessons that provide reassurance that the band has it all under control.
Small Reactions with Deep State and the Sticky & Smooth Variety Show. $8. 8:30 p.m. Thurs., Aug. 24. The Earl, 488 Flat Shoals Ave. S.E. 404-522-3950. www.badearl.com.