Fox News contributor accuses state Rep. Calvin Smyre of sexual assault
The Columbus Democrat denies her allegations
Wednesday November 15, 2017 03:26 pm EST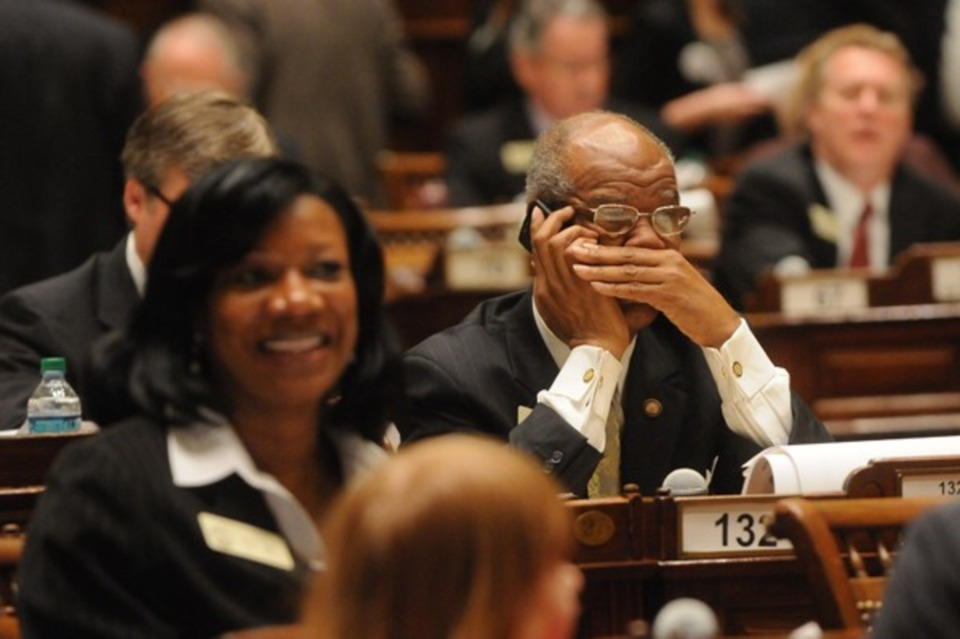 UPDATED Nov. 15, 2017 at 1:10 p.m. to clarify there's no foundation in claims that media outlets are attempting to silence the accuser.
Fox News analyst Jehmu Greene says state Rep. Calvin Smyre, D-Columbus, sexually assaulted her at the 1996 Democratic National Convention in Chicago.
In a barrage of tweets posted Nov. 10, Greene stated that Smyre, "the monster," had forced himself upon her at the Democratic gathering. She further detailed the alleged incident in a Nov. 12 tweet:



Seeing Smyre decades after the alleged misconduct, Green said, "It took all I had not to choke him."
Smyre's attorney released a statement defending the lawmaker:
"I have recently been made aware of a troubling accusation of sexual misconduct by touching. In an alleged 1996 incident, Jehmu Greene accuses me of touching her inappropriately in an elevator after a night of drinking during the 1996 Democratic Convention. I have not consumed any alcohol of any kind since 1993 and I know I am not the person who inappropriately touched her. I do not doubt the sincerity of her recollection or the legitimacy of her pain. Any accusation of sexual harassment, assault or predatory behavior should always be viewed as a serious matter, and anyone in a position of power has the superior obligation to ensure the victim is not revictimized. However, I do plan on defending myself against these false charges. My legislative record reflects my strong support against sexual assault and for issues facing women in our society."
Greene says she thinks other news outlets turned a blind eye to her claims on the grounds that she had not filed a police report for the alleged incident. She even took to Twitter again to spotlight a few local journalists she believes are aiding a cover-up, although the AJC, one of the papers she called out, says it's actively investigating her claims. "We are reporting on the allegation and will follow where the facts lead," says AJC Senior Managing Editor Burt Roughton in a statement to CL.

Asked why he believes Greene would lodge false accusations against him, Smyre told the Columbus Ledger-Inquirer she might be confused about who groped her. "I opposed Ms. Greene as DNC chair, but I don't believe that's reason enough to hold a personal grudge," he said. "I honestly do not know why she would make this allegation. Maybe she is just mistaken about who touched her."
More By This Writer
Aman says Reed is 'perilously close to misusing public resources to issue an obviously false statement'
Wednesday November 8, 2017 03:50 pm EST
Aman says Reed is 'perilously close to misusing public resources to issue an obviously false statement' |
more...
Reason you should vote - Your neighbor probably won't
Wednesday November 8, 2017 03:57 pm EST
Reason you should vote #598: Your neighbor probably won't |
more...
Turning the no man's land around Atlanta's airport into, well, somewhere
Thursday August 13, 2015 04:00 am EDT
Your favorite old photos and street signs are coming down from Manuel's walls"
Thursday October 1, 2015 04:00 am EDT
Wednesday October 7, 2015 11:59 am EDT
Search for more by Sean Keenan