20 beers for 20 years of Brick Store
Decatur's favorite neighborhood pub looks back on two decades with 20 new brewery collaborations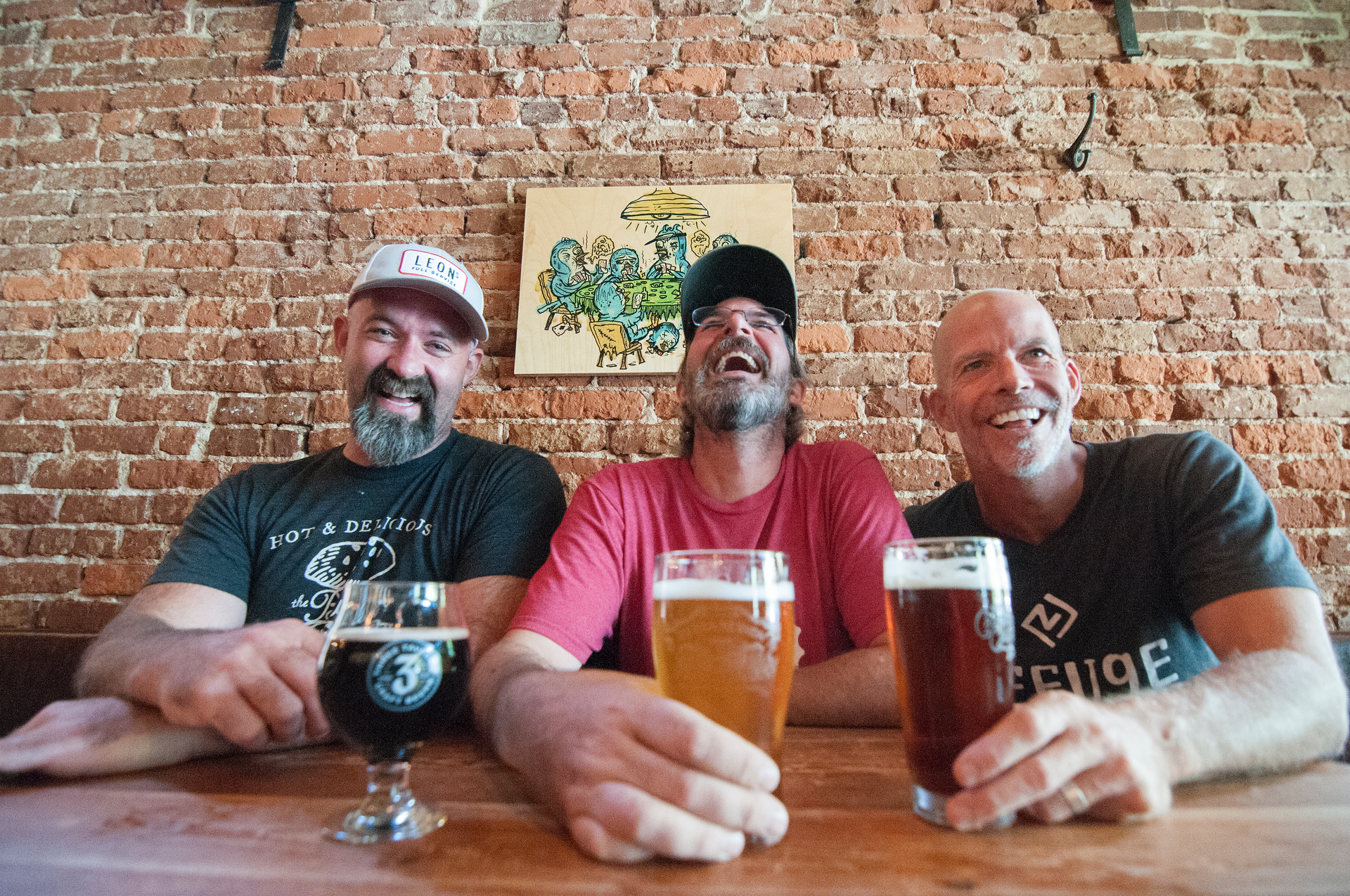 Mike Gallagher insists that the Brick Store is "just a neighborhood pub." It simply happens to consistently rank among the best places to drink beer in the entire world, according to
ratebeer.com
and beer geeks everywhere. And this Saturday, Decatur's "just a neighborhood pub" will celebrate two decades in the biz with a "20 beers for 20 years" blowout, featuring BBQ and custom collaboration brews crafted by 20 of the pub's favorite breweries. The very premise of the party smashes founding partner Gallagher's modesty there just aren't many (any?) other neighborhood pubs in the world that could pull off a beer list like this.
Gallagher and his partners Tom Moore and Dave Blanchard opened Brick Store's doors back on June 27, 1997, which now seems like an eon ago in the fast-moving world of craft beer. At the time, craft brewing barely registered for most Atlantans. SweetWater opened that very same year, and Terrapin in Athens was still five years away from birth. In fact, there are five times as many breweries today in the U.S. as there were back then, with most of that growth coming in the past five years. Yet Brick Store was a remarkable place for a pint back then, and remains so today.
Brick Store's anniversary party celebrates change by recognizing both pioneering breweries and those that have quickly proven their merits. "We try to come up with fun, funky things to do for our big anniversaries, and this is the most ambitious one by leaps and bounds," Gallagher says. "We wanted to look both back and forward, to the breweries we've had great relationships with over the years and who haven't sold out to a big conglomerate, but also to the young up-and-comers we want to work with for the next 20 years."
That means you'll see custom beers from old timers like Sierra Nevada (around since 1979) side by side with that of Athens-based Creature Comforts, co-founded in 2014 by head brewer David Stein, who got his start waiting tables at Brick Store.
A member of the Brick Store team went out to each and every one of their chosen 20 breweries to help create beers for the event (all but one, St. Bernardus in Belgium, are U.S.-based). Only one brewery on their wish list turned them down, and that was simply because that brewery's capacity was completely maxed out. What all the brewers had in common, other than a strong relationship with Brick Store, was a mentality. "It's all about the passion," Blanchard says.
The good and the bad of the current beer scene is that passion overflows, especially for local craft beer. "For the longest time we built relationships mostly with breweries from out-of-state, even out of the country, because Georgia didn't have a big local beer scene," says Gallagher. "Our laws held us back. Craft brewers like Dogfish Head, Stone, Bell's ... we were so excited to get them. And we sold tons of their beer." Now, as the number of breweries in Atlanta and throughout the region has exploded, he sees an opportunity to spread the love.
"Our numbers are actually down today versus five years ago with every single brewery we've had because instead of roughly 40 breweries in a given month, it's 140!" Gallagher continues. "We want to support local and be sensitive to our longstanding relationships at the same time. And that's a full-time job."
But it's a job this neighborhood pub does right and well, even two decades in.
In preparation for Saturday's event, Blanchard gave Creative Loafing a preview of some of the 20 special brewery collaboration beers:
Sierra Nevada: "How lucky we were to brew at quite possibly the most beautiful brewery in the world, up in Mills River, North Carolina. We did a hybrid of their original pale ale and their Celebration ale (American IPA). The brewers there liked it so much they are actually going to make it on a regular basis to sell at their brewery!"
Creature Comforts: "The darling of the beer world (at least here in Georgia). We were lucky enough to brew with our old employee, David Stein, on a double IPA called Loopulus! Great beer, great brewery, even better people."
St. Bernardus: "I was lucky enough to go to Brussels back in September to receive 'the Knighthood of the Brewers' Paddle' on behalf of the Brick Store Pub. What was even better was going to brew this new saison at the St. Bernardus brewery."
Allagash: "Possibly our closest friends of any out-of-state brewery. We did an amazing barrel blending over the course of an afternoon and were blown away by the creativity and passion these guys still have after being in biz for 21 years. Owner Rob Tod and head brewer Jason Perkins are class acts and we are psyched they are a part of this."
Blackberry Farm: "We brewed this beer at their farm using yeast harvested from the farm. This one firkin of saison that we made was totally worth hanging out on the farm with turkeys, sheep and chickens buzzing around us."
Left Hand: "OK, so Allagash and Left Hand are tied as our best brewery friends outside of Georgia. We traveled there with a few bags of coffee that we picked up and brewed an unusual style of beer a blond stout with coffee added. Coolest folks in one of the coolest towns in Colorado."
In addition to the big party on Saturday, Brick Store will host a series of guest chef dinners all week, paired with special beers from the pub's upcoming sister brewpub, Good Word Brewing, opening later this year in Duluth. Tonight, it's the chefs from Staplehouse doing the cooking. Later this week, chefs from Kimball House, Leon's Full Service, and No. 246 will take the reins.
20th Anniversary Beer Festival and Celebration. $60. 1-8 p.m. Sat., June 24 (note: first session is sold out, limited second session tickets available at the door). Brick Store Pub. 125 E. Court Square, Decatur. 404-687-0990. www.brickstorepub.com
More By This Writer
Monday February 19, 2018 04:59 pm EST
Gloriously anachronistic and free from all frills, Mt. Paran Country Store makes Buckhead work |
more...
Wednesday January 3, 2018 06:00 pm EST
It's the Korean take-out shop you never knew you needed |
more...
Thursday November 30, 2017 01:54 am EST
Friday November 17, 2017 06:49 pm EST
Monday November 13, 2017 06:31 pm EST
Search for more by Brad Kaplan