Bhargava Chiluveru's mission to capture the spirit of Atlanta
The founder of fourofour combines local artists, e-commerce and entrepreneurship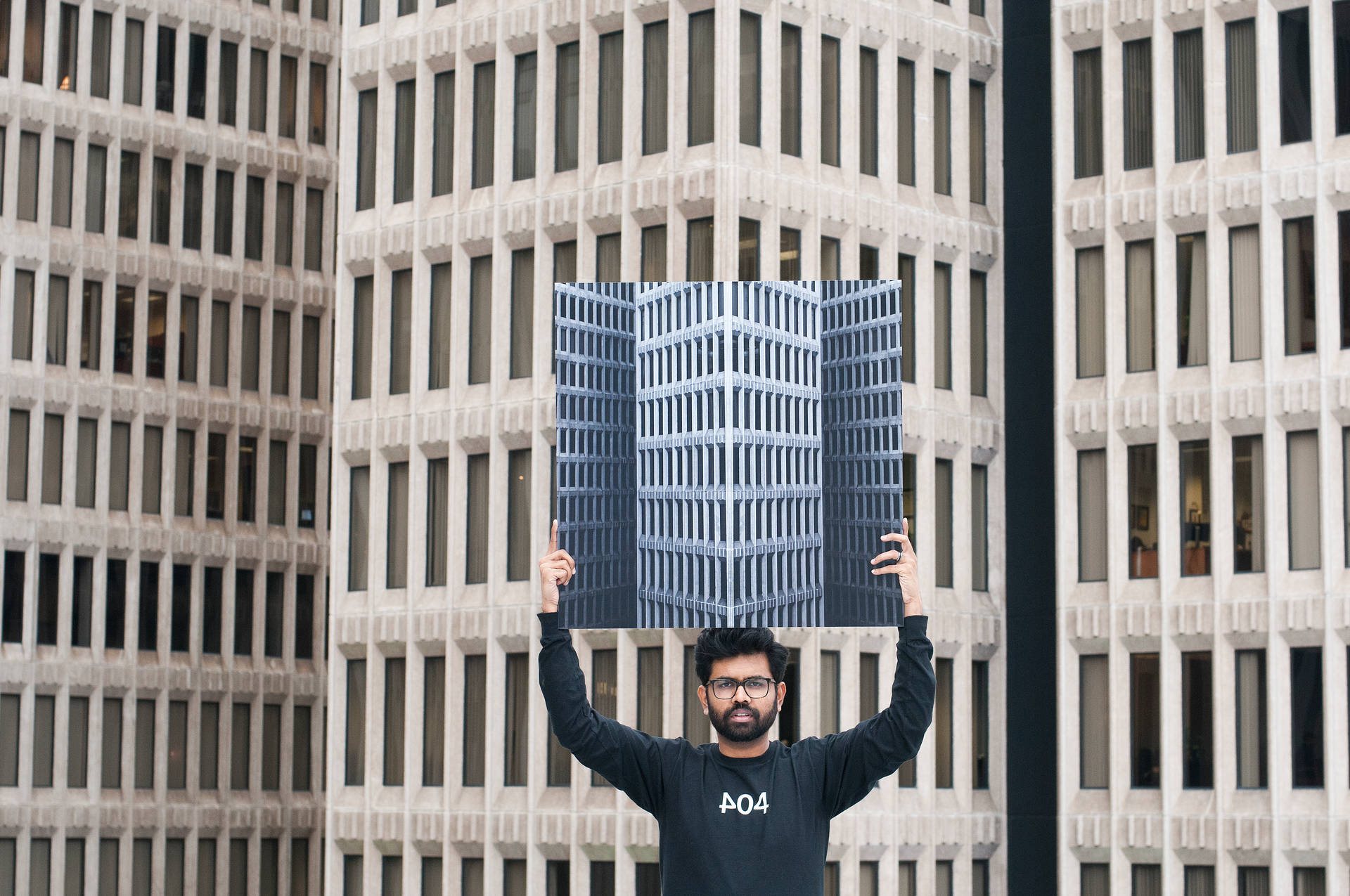 How many websites, online portfolios and social media pages does one man need? Three? Five? Bhargava Chiluveru has nearly 20. Because when you're a photographer, marketing strategist, creative director, project manager, designer, filmmaker, editor and CEO running three bootstrap businesses out of the startup hub
Switchyards Downtown Club
, differentiating your brand(s) with a strong digital presence is the hustle.Chiluveru co-founded digital branding agency Chil Creative and Chil Studios, which specializes in contemporary and documentary photography and cinematography, with his wife and director of operations, Anu. When the couple launched
fourofour.co
in August 2016, he added e-commerce developer and ATL evangelist to the list.Fourofour is an independent brand with a big mission: Bring people together, capture the spirit of the city of Atlanta and empower local artists."There is something special happening here," the 31-year-old entrepreneur says. "There are a lot of different silos in Atlanta, so I don't think people realize how special the city really is. To capture all that while helping artists thrive, that is what we're trying to do."
No value assigned
Up on Switchyards' second floor
, the DIY startup vibe is alive and well. The hallway is lined with floor-to-ceiling plywood slabs on sliding tracks, gateways that lead to other B2C businesses trying to survive and thrive. As soon as you step off the elevator, you get the feeling that you've entered a place where shit gets done."Atlanta's creative and startup scene is pretty heavily focused around B2B — business to business — startups," says Michael Tavani, the founder of Switchyards Downtown Club. "Switchyards was created to produce more companies that are consumer focused, and to create a culture around those types of companies — to create a community around it. To galvanize them around starting brands that have a soul. … That's our entire ethos. Atlanta is a big part of that."Chil HQ is modest. Inside, the white-walled room is big enough to house a team of seven or eight. There's a row of flat-screen computer monitors atop long white tables against one wall, a few rolling chairs. A line of fourofour shirts (you can tell by the four-star fourofour logo or the palindromic 404 that starts with a backward "4" printed across the chest) and awards hang on the walls.Six months in, fourofour functions as an e-commerce platform and series of pop-up events meant to "embrace our growing city and its people," says the company's website. "We want to learn from its unique, ever-evolving culture and show the world a side of it only a few know. We partner with emerging local artists and empower them with an outlet for unique expression and entrepreneurship."Here, the "entrepreneurship" piece encompasses everything from marketing to logistics, e-commerce and fulfillment. Artists lease their intellectual property — the actual files containing the designs, art or the graphics — and receive a share of the profits whenever a sale is made."Most of the experienced artists that I come across, fulfillment is the one thing nobody wants to deal with," Chiluveru says.All of the apparel on the website is made to order. "It's automated, so if you order something, we get the order, we send it to the fulfillment center, they make it, and they print it and they ship it straight to you. We are paying for that, not the artist."
No value assigned
Examples of recent artist collaborations featured on fourofour's online store include a vivid, full-bleed T-shirt picturing the Marriott Marquis' lung-like atrium from Graphiknation founder Lauren Holley. Atlanta photographer and videographer Scott Valladares (@kidsc0tt) has shirts and prints featuring just the tops of iconic Atlanta buildings set against partly cloudy skies. Christynne Papincak, the photographer behind the @whyiloveatl Instagram account, created a pair of graphic leggings printed with a sprawling black-and-white aerial of Downtown."We're trying incredibly hard to give artists a much better cut than most of the licensing sites out there," he says. "I want to do 50/50, if possible.""Bhargava and I have collaborated before, and we have a lot of shared vision for unifying the community, as Atlantans, photographers and creative entrepreneurs," Holley says. "I love what fourofour represents as an emerging brand for Atlanta creatives, so it was an honor to be included in their collection. I can't wait to see how it will grow organically and what other new artists, genres and products will be added over time."
Chiluveru's drive to create art
and businesses stems from a lifetime spent reconciling his diverse experiences, contextualizing them and then somehow making them manifest. He was born in Hyderabad, a multicultural melting pot in Southeast India populated by immigrants from all over the country. Growing up, his father owned an advertising agency that shared space with his family's residence. Chiluveru didn't just grow up around agency life; he grew up in it."I was exposed to many different creative thought processes growing up, which is rare for someone in India at that age," he says. "Creative services were pretty rare, and none of my friends were exposed to this type of thought process at the time. We also had a computer early on, which was also very rare."Even so, his father had bigger dreams. Motivated by the promise of a better, more secure future, he moved the family to Norcross in 1998. The 13-year-old Chiluveru was transported from one melting pot to another, but this time he found himself on the other side of the immigrant experience."
My parents
sold everything and moved here with about $600 to their name and made it. … The citizenship process here is very long and very expensive. Nobody goes through it without being properly vetted and going through a long, arduous process. My dad ended up changing his career from advertising to IT and had to start over."Chiluveru's parents encouraged him to pursue an IT career, too, for the stability."My parents eased up recently when they saw some of my work being recognized," he says. "I'm pretty sure they are proud of me, but I'm sure they still worry about my stability in the creative field."After earning a marketing degree from Georgia State University, Chiluveru moved to Midtown with the intent of becoming an artist. He wanted to see if he could quell his parents' — and his own — fears about not being able to make a living as an artist. Inspired by intown culture, the people and the architecture, Atlanta became his muse.
No value assigned
Chiluveru loves digital manipulation
in photography. One of his recent projects played with symmetry. In one piece in the series, he took Atlanta's skyline and mirrored it horizontally so that the familiar silhouette of buildings cascades across the sky and the ground below. Like a good piece of science fiction, the image conjures a familiar yet unfamiliar new world. Creating fantasy realms based in Atlanta echoes the artist's affection for John C. Portman Jr.'s space-like architecture.The volume of Chiluveru's body of work is staggering — thousands of photos spanning several portfolio sites, Instagram, boxes of matted 8x10s and 5x7s that were once destined for sale at art festivals. He estimates that he's got about 16 terabytes worth of data, raw photos, and video and design files in all."What I realized over two or three years is that to make a living as an artist is extremely difficult," Chiluveru says. "I needed to create an online portal to distribute all of this. Then I noticed that everybody else was having the same problem, so I decided to create a place where we would all be able to sell our art."What sets fourofour apart is the combination of streetwear and art with the entrepreneurial assistance."They are both ways that people tend to show their love for a city. Apparel is a great medium to do that. Art, in general, has always been a great medium to show your love for something. I think those are things that are in my roots, and so I built that into the brand."So why Atlanta? Why now?"Atlanta has all this new energy. There's a whole new generation of people moving here, a whole new generation of art and culture. We need to showcase what's really happening and talk about that kind of stuff."There are organizations with similar missions. You've Been Noted is another platform that acts as a spotlight and sounding board for local makers. Organizations like the Goat Farm and the Beltline are doing great work to put art on the map and encourage artists in general, he says. #Weloveatl — the hashtag turned local arts organization with nearly 60,000 Instagram followers — is a big reason audiences discovered Chiluveru's work in the first place.

"I'm definitely appreciative of that," Chiluveru says. "At the end of the day, I just want to keep paying it forward. It's not about rivalry or anything like that. Fourofour is all about love. Atlanta is so big; I think there's room for all our dreams."
More By This Writer
Friday November 17, 2017 06:57 pm EST
Wednesday July 19, 2017 08:09 pm EDT
ATL entrepreneurs and the spaces they call HQ |
more...
Thursday September 8, 2016 09:00 am EDT
Twain's Brewpub and Billiards' Executive Chef makes a satisfying and affordable meatless meal |
more...
Wednesday August 3, 2016 04:30 pm EDT
Tuesday July 12, 2016 01:57 pm EDT
Search for more by Stephanie Dazey