Alon's celebrates 25 years
Chef and owner Alon Balshan of Alon's Bakery and Market looks back on a quarter century of pastries
Wednesday May 3, 2017 10:00 am EDT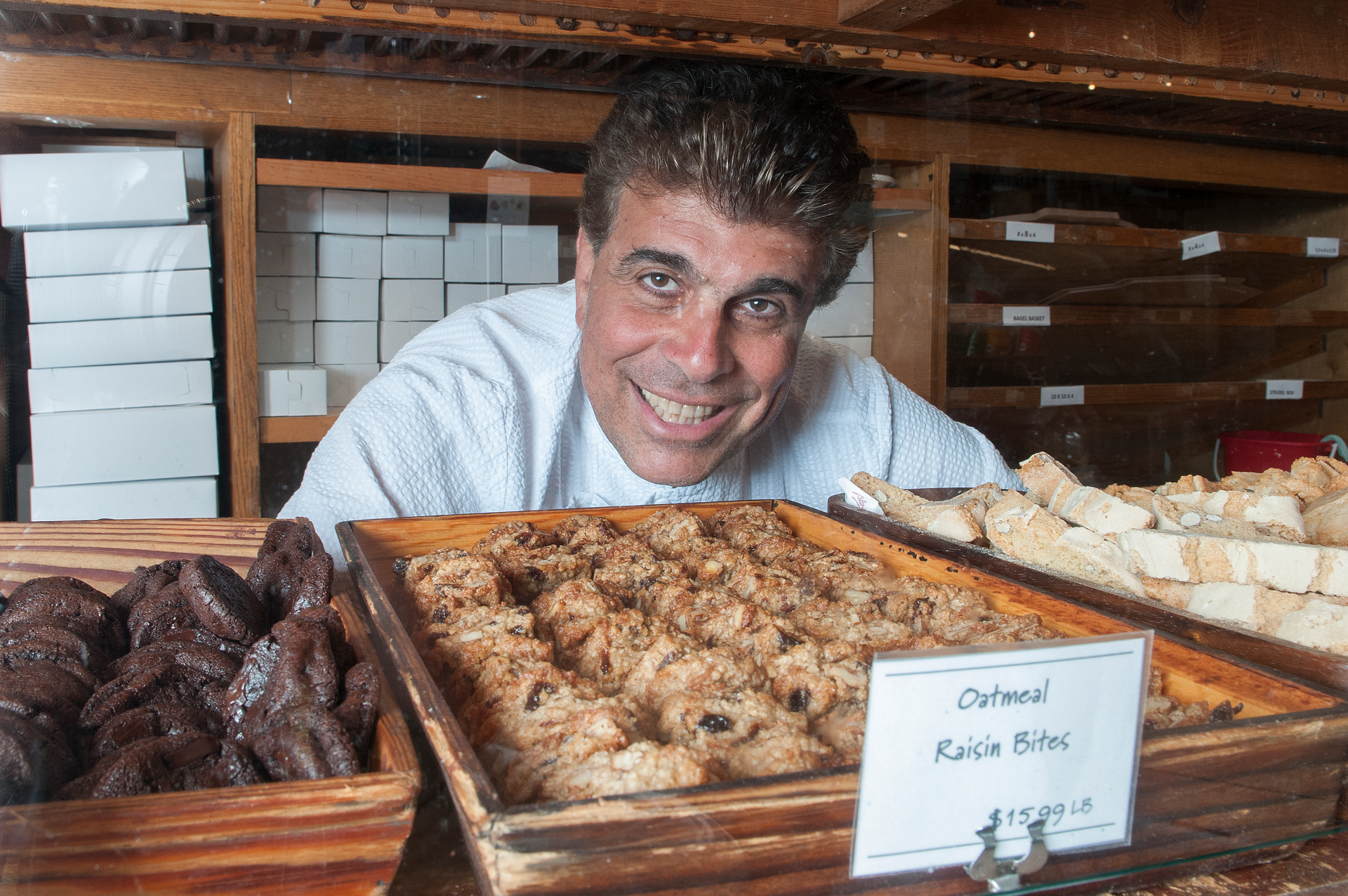 bI came over to America thinking I would spend a couple of years, yet one thing led to another,b says Alon Balshan. Itbs a bit of an understatement for the Israeli chef and owner of Alonbs, the eponymous market and bakery with two metro locations and a 25-year legacy. This month, the beloved business is celebrating its silver anniversary with a free block party at the original Morningside location.
Balshan says hebs always loved food. Growing up in Israel, he conducted chemistry experiments and found his way to cooking. When he turned 18, he was drafted into the military, as is the required rite of passage in Israel. However, he never forgot his dream of opening a business. When he finished the army at 21, a fan of his dishes suggested he become a chef.
bAt that time, being a cook did not have a good reputation, and yet I went to culinary school,b Balshan recalls. bIt was not a popular thing to do, but I remember feeling a rush running through me. I started cooking and baking, but my passion was for pastries.b
After graduating from Israelbs prestigious Tadmor Culinary School, Balshan went on to work in hotels and bakeries in Europe, all the while dreaming of coming to the United States. bAs a little kid, I would overhear the grownups talking and they would say, bMoney is rolling in the streets over there.b I took that literally and I thought America was the land of opportunity b and I still believe it is.b
No value assignedIn 1986, Balshan bought a one-way ticket to New York City with nothing but a backpack and $500 to his name. A friend in Israel gave him the phone number of a friend who worked for the Englemanbs Bakery there. But when Balshan arrived, he discovered it had closed and moved to Atlanta. Not knowing anyone else in America, he had no choice but to dial the number.
bI asked what kind of place Atlanta was and in my mind I thought it was going to be a little village and that I would get stuck in this little, tiny place,b he recalls. bI was told it was smaller than NYC but not smaller than Tel Aviv, and I figured I could deal with that.b
He bought another one-way ticket and landed in Atlanta late that night, greeted by a stranger with his name on a sign. By 8 a.m. the next morning, he was in the kitchen at Engelmanbs, baking Old World breads and pastries for wholesale. He stayed for two years before taking a pastry chef position at Murphybs in Virginia-Highland. There, he learned about American desserts like carrot cake and scones, items hebd never even heard of back in Israel. bI remember the first time they told me to make scones,b he laughs. bI had to dig in and try to find recipes and figure out what scones were. It was a learning process. I could write a book about adapting to a place you are in."
While working at Murphybs, Balshan began to plot his next move: opening his own bakery, a dream hebd held since he first began cooking. The moment arrived when he noticed a space for rent on N. Highland Avenue. He recalls the moment he decided to buy it; heart thumping, brain reeling with ideas of where he might find the money. Eventually, his father, a friend and a car loan gave him enough numbers to work through on his Lotus spreadsheet. He began cobbling together the necessary supplies, planning his menu and going to auctions to find used baking equipment on the cheap.
No value assignedWhen Alonbs officially opened in May 1992 as one of Atlantabs first European bakeries, the public b and the press b came running. ThenB AJC dining critic Elliott Mackle wrote an article about the bakery that ended with: bSo baby, go ahead and get in line.b Atlanta listened. The next Saturday morning, Balshan arrived to find new customers lined up from the door down the sidewalk, waiting for him to open.
As time wore on, Balshan continued to grow his little bakery. In 2000, he expanded the original location; in 2004 he expanded again, adding a deli menu of soups, sandwiches, salads, breads, cheeses and wine. A few years later, a landlord in Dunwoody offered to invest in a second Alon's. bIt was a very big move because so far we had done everything measured and small,b says Balshan. But one big loan later, things were in business. By 2008, the Dunwoody location offered all the same items as the Morningside location, plus more: a beer and wine bar, a wood-burning oven for pizza and catering services.
Since then, despite some recession-related struggles, Alonbs has thrived in both locations. Many loyal customers b along with pastry chef Therese Giomet-Sauve, a former colleague of Balshanbs back at Murphybs b have stayed with him for well over two decades.
No value assignedNearly all the desserts Alonbs offers were dreamed up by Balshan himself b some brand new (hello strawberry cheesecake eclairs!); some old as the bakery itself (like croissants perfected during Balshanbs early days as a European pastry chef). There are cranberry scones, slices of chocolate Louise cake made from his grandmother Louisebs secret recipe and the famous Napoleon: toasty layers of puff pastry filled with vanilla cream that fills Balshan with memories of his childhood. bI grew up with quality, quality all over the place. It was the only way I knew,b he says. bThe background you come from is important and puts its mark on who you are.b
Of course, so does the place you end up. For Alonbs 25th anniversary celebration, Balshan will thank his loyal customers by making mini wedding cake cookies. They're meant to symbolize his great love for his adopted home sweet home: Atlanta.
Alonbs is celebrating its 25th anniversary with a free block party featuring free food, a falafel bar and a DIY birthday cake cookie decorating station. 2-6 p.m., Sun., May 7. Alonbs Bakery and Market Morningside. 1394 N. Highland Ave. N.E. 404-872-6000. www.alons.com.
More By This Writer
Ponce City Market shop raises a glass to booze-free drinking
Tuesday October 11, 2016 05:00 pm EDT
Virginia Highland's Savory Spice Shop offers a wealth of fall flavors for the holidays
Friday November 11, 2016 07:38 pm EST
Thursday December 14, 2017 06:50 pm EST
Once needed for times of scarcity, canning and pickling are now some of the hottest ways to prepare fresh food |
more...
In honor of Valentine's Day, Xocolatl's founders share the story behind Atlanta's smallest chocolate factory
Thursday February 9, 2017 05:00 pm EST
Divanbs new chef Peyman Rostami brings his Persian cuisine from a palace in Oman to a house in Buckhead
Wednesday April 5, 2017 11:00 am EDT
Search for more by Grace Huseth