Find a farmers market in your 'hood
Check out our alphabetized guide to Atlanta's top farmers markets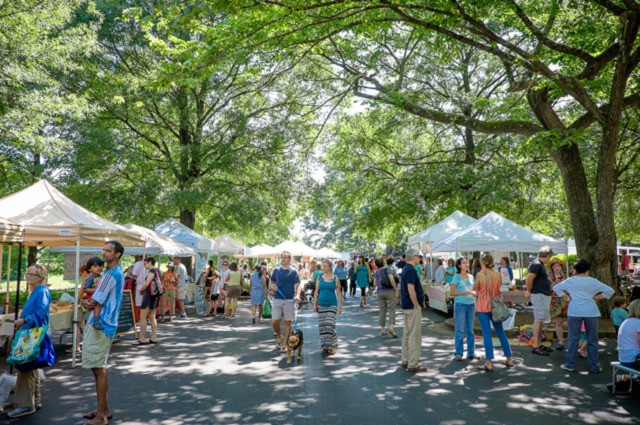 Spring has sprung and Atlanta is ripe with farmers serving up fresh, locally grown produce and products. So why not bypass Kroger and buy straight from the source? If you're looking for aB
real farmer's market
in your 'hood, check out these excellent options.
Brookhaven Farmers Market
Dedicated to providing locally produced food from vendors like West Wind Farms, Heritage Farms, Double B Farms and Mollyville Farms, this market strives to create and maintain relationships between farmers and consumers.B
9 a.m.-noon. Saturdays.B 1375 Fernwood Circle.B www.brookhavenfarmersmarket.com.
Decatur Farmers Market
Working with local purveyors like Amani Soaps, Bee Wild, Riverview Farms, Mad Mama Gourmet and more to provide fresh produce, hand-crafted goods, and plant-based beauty products, this market accepts SNAP and MyMarket purchasing options.B 4-7 p.m., Wednesdays and 9 a.m.-1 p.m., Saturdays. 308 Clairmont Ave., Decatur.B 404 919-3619B http://cfmatl.org/decatur.
East Atlanta Village Farmers Market
In East Atlanta, patrons can expect to find meals prepared by Epicurean Chef, non-GMO nut butters from Georgia Grinders and chai tea from Faraja Chai among others every week, along with seasonal vendors like Dickey Farms and Watsonia Farms, and on every first Thursday of the month, all natural gourmet ice cream sandwiches from Atomic Ice Cream Sandwich.B 4-8 p.m. Thursdays.B 572 Stokeswood Ave. S.E.B 404-919-3619.B www.cfmatl.org/eav.
East Point Farmers Market
From seasonal apple products from Mercier Orchards to baked goods from Bistro2Goto energy bars from Pure Bliss Organics, this market offers natural produce and goods from over a dozen different seasonal vendors and markets.B 4-7 p.m. Wednesdays.B Fire Station No. 1,B 2757 East Point St., East Point.B www.eastpointfarmersmarket.com.
Freedom Farmers Market
Every Saturday at the Carter Center youbll find fresh produce, grass-fed meats, dairy, farm fresh eggs, handmade pasta, preserves, baked goods, coffee and more from a wide variety of local purveyors.B 9 a.m.-1 p.m., Saturdays, March-December; 9 a.m.-noon, January and February. The Carter Center,B 453 Freedom Parkway.B www.freedomfarmersmkt.org.
No value assignedGrant Park Farmers Market
Handcrafted pasta from Antoniobs, fresh pressed juice from Bamboo Juice and an array of vegetables from Cosmos Organic, Freewheel Farms and other hyperlocal producers can be found at this weekly market.B 9 a.m.-1 p.m. Saturdays.B 600 Cherokee Ave. 404-919-3619B www.grantparkmarket.org.
Green Market at Piedmont Park
In the heart of Midtown, local producers provide an array of produce and freshly prepared foods fromB Fitzgerald Smoked Meats, Deep South Biscuit Company, Ma's Irish Pancakes, Nuts for Pate, and Valbs Kale Chips.B 9 a.m.-1 p.m. Saturdays. Piedmont Park, 12th Street and Piedmont Avenue.B 404-875-7275.B www.piedmontpark.org/programs/green_market.html.
Morningside Farmers Market
The Morningside Farmers Market provides assorted fruits and vegetables from Burge Organic Farms, kombucha from Ancient Awakenings and organic coffee from Cafe Campesino, to name just a few.B 8-11:30 a.m. Saturdays. 1393 N. Highland Ave.B www.morningsidemarket.com.
Peachtree Road Farmers Market
The largest producer-only market in Atlanta supplies fresh local produce, natural foods from vendors like 100% Artisan and Banner Butter and even handcrafted jewelry and home goods.B 8:30 a.m.-noon, Saturdays, 4:30-8 p.m., Wed. 2744 Peachtree Road N.W.B 404-365-1078.B www.peachtreeroadfarmersmarket.com.
Ponce City Farmers Market
Right off the Beltline youbll find holistic skincare from HerbbN Eden, homemade protein bars and smoothies from Karmatic Kitchen and artisanal breads from La Calavera Bakery plus over a dozen other vendors and local farmers.B 4-8 p.m. Tuesdays. The Shed at Ponce City Market, 675 Ponce de Leon Ave. N.E.B 404-919-3619.B http://cfmatl.org/poncecity.
West End Beltline Farmers Market


Opening June 2, this market in the historic West End brings with it food demos, local produce from urban farms, and talent showcases. 4-8 p.m. Fridays. Gordon White Park, 1354 Ralph David Abernathy Blvd. S.W.B www.webmarket6.org.
More By This Writer
No results for query.
Search for more by Brad Kaplan|Nyasha Drakes