First Look: Jai Ho
The owner of Savi Provisions serves up French-Indian cuisine beside Piedmont Park
Monday April 3, 2017 02:00 pm EDT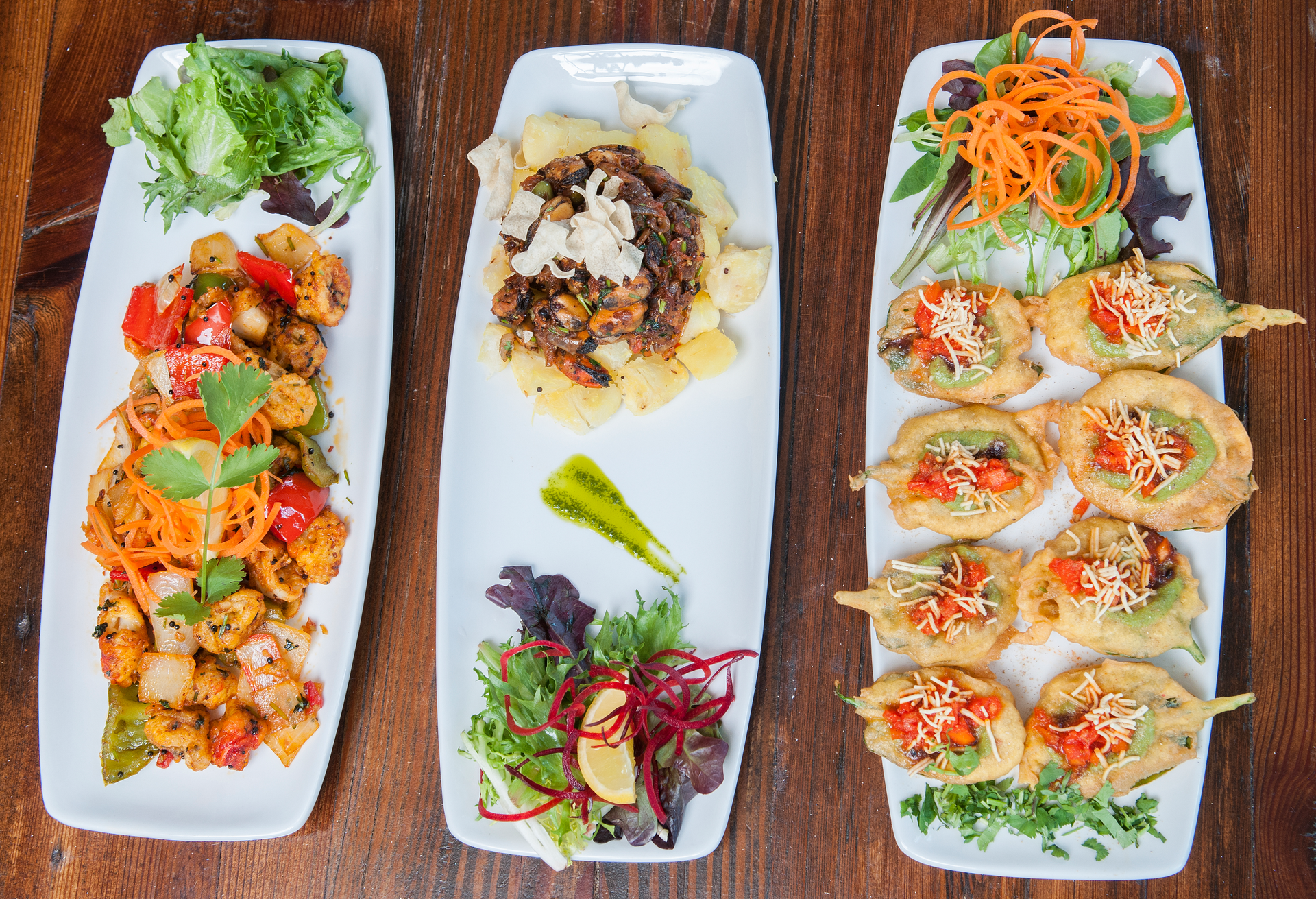 Into Atlantabs ever-widening ring of regional and modern Indian restaurants steps Jai Ho Indian Kitchen and Bar. Located in the former Madre + Mason spot in Morningside, the restaurantbs name means blet there be victory" in Hindi, perhaps in hopes that it will fare better than its locational predecessors. Jai Ho sits alongside Piedmont Park, near the dog run and not far from the Beltline. The outdoor patio offers a welcome bit of nature in the middle of the city. Inside is spacious, with seating for 100. Grab a stool at the huge modern bar or at a table beside the large glass windows. Plush red drapes are drawn to let in lots of natural light and views of the park. Moorish chandeliers against pale yellow walls give the interior a warm, casual feel. With a backdrop of American pop music and Fox News on overhead television screens, it hardly feels like a typical Indian restaurant.
bWe are an Indian-focused restaurant with French cooking techniques,b says Jai Hobs co-owner Paul Nair, a native of Mumbai and owner of the local upscale market chain Savi Provisions, which has four locations dotted around Atlanta. Paul refers to the cuisine of Pondicherry, a chic seaside province in southern India that became a French East India Company trading post in the 17
th
century and remained so for many years. The city passed frequently between a number of European colonial powers, but the French left behind the most distinct aspects of their culture, from the architecture to the cuisine b incorporating French methods with Indian ingredients.
Paul, along with former Hilton Head-based chef Anish Nair and chef Vijeesh Parayil, who has cooked at restaurants in India, New York and Ohio, is trying to introduce this Indo-French cuisine to Atlantabs dining scene. bWe wanted to expand our current offerings in a more sit-down format,b says Paul of the team's decision to expand beyond Savi. bAt Jai Ho, you can hang out with friends after work, sip on draft beers and munch on small plates.b
No value assignedThe two-page menu covers a lot of ground, from soups and salads to bstreet eatsb to familiar Indian comfort foods and regional specialties. Calamari Cochin ($10) plays homage to chef Parayilbs home state of Kerala (Cochin, also known as Kochi, is a major port city in the state), where spicy coastal cuisine is the norm. Bite-size pieces of squid are battered with chickpea flour and coconut milk, flash fried to tenderness and topped with tempered nutty mustard seeds, sweet tomato puree, bell peppers and a squeeze of lemon juice. The spinach chaat ($8) is more of a crisp spinach leaf pakora or fritter, drizzled with a homemade blend of ground garam masala. How each leaf stays so perfectly flat is a mystery to me.
The mussels pepper fry ($11) is perhaps one of the most interesting dishes in town and an ideal marriage of French and Indian flavors. Meat is shelled and stir-fried with ginger, curry leaves, crushed peppers and coconut flakes and served on a bed of boiled yucca, offering a sweet and spicy tango on the taste buds.B
In Pondicherry, curries are traded out for herb-rich sauces made with traditionally French ingredients such as wine and cream. Vindaloo ($15-17), originally a Portuguese creation derived from a pork and red wine stew called carne de vinha dbalhos, maintains some of its integrity at Jai Ho. The meat (choose from chicken, lamb, shrimp and goat) is simmered overnight with red wine and lots of tomatoes, creating a tangy, acidic flavor with a kick of fiery chili at the end. Chefbs specials come with garlic naan, biryani spiced rice and a garnish of grilled carrots and asparagus.B
No value assignedThe Cochin snapper ($24) finds a rich creamy shrimp sauce with lots of onions and turmeric crowned atop a whole spice-rubbed red snapper cooked in a tandoor clay oven. The fish and shrimp have two distinct flavors, but somehow it works. Mughal lamb shank ($22) is marinated with fresh mint, cilantro, rosemary and green chilies, then cooked sous-vide, a popular French method where the meat is vacuum-sealed and placed in a hot water bath. As a result, the meat is tender and the juices remain intact.
Healthy items are plenty, and well spelled out b therebs an entire section of the menu devoted to vegans. Paneer rollari ($19) is one of the chefbs own creations, consisting of cooked spinach leaves with grated cottage cheese melted in, served on a bed of masala mashed potatoes. While vegetarian and gluten-free, the dish disappoints in the visual and flavor departments.
No value assignedThe Nairs take pride in their beverage selection, sourcing many items directly through Savi Provisions. Choose from a variety of craft beers, wines, spirits, cocktails and non-alcoholic options like lassis, chai and madras coffee ($3). The Bombay Cooler cocktail tastes like iced mint chutney in a glass, and the tamarind margarita is sweet and tangy.Desserts are made in-house with innovative blends of Indian and western styles. The gulab jamun pie ($7) is a traditional plain homemade pie crust with whole gulab jamuns (fried doughnut balls b a popular Indian dessert) in the filling. Pistachio kulfi ($7) is Indian-style ice cream served with spiced pound cake.Jai Ho is currently open for dinner but will soon be serving lighter fare for lunch, as well as drink-paired dinners and weekend brunches. Atlantabs dining scene has lately welcomed such regionally-focused concepts with modern presentations, and one hopes Jai Ho will live up to its name and find a place among them.
560 Dutch Valley Road N.E. 404-458-6888.B www.jaihoatlanta.com
More By This Writer
Authentic flavors of Southern India in Smyrna
Wednesday November 26, 2014 04:00 am EST
South African eats at Ponce City Market
Monday March 21, 2016 04:00 am EDT
Erstwhile East Andrews proprietors bring Neapolitan flavors to Peachtree Center
Monday October 31, 2016 02:00 pm EDT
Contemporary taste of Turkish history
Monday October 20, 2014 04:00 am EDT
Poncey-Highland's sleek new eatery offers pan-Asian crowd-pleasers for the whole family
Thursday June 29, 2017 10:26 pm EDT
Search for more by Sucheta Rawal