First Look: Mediterranea
A lovely new Grant Park hideaway serves gluten-free Mediterranean cuisine inside an old trolley stop
Monday April 24, 2017 02:30 pm EDT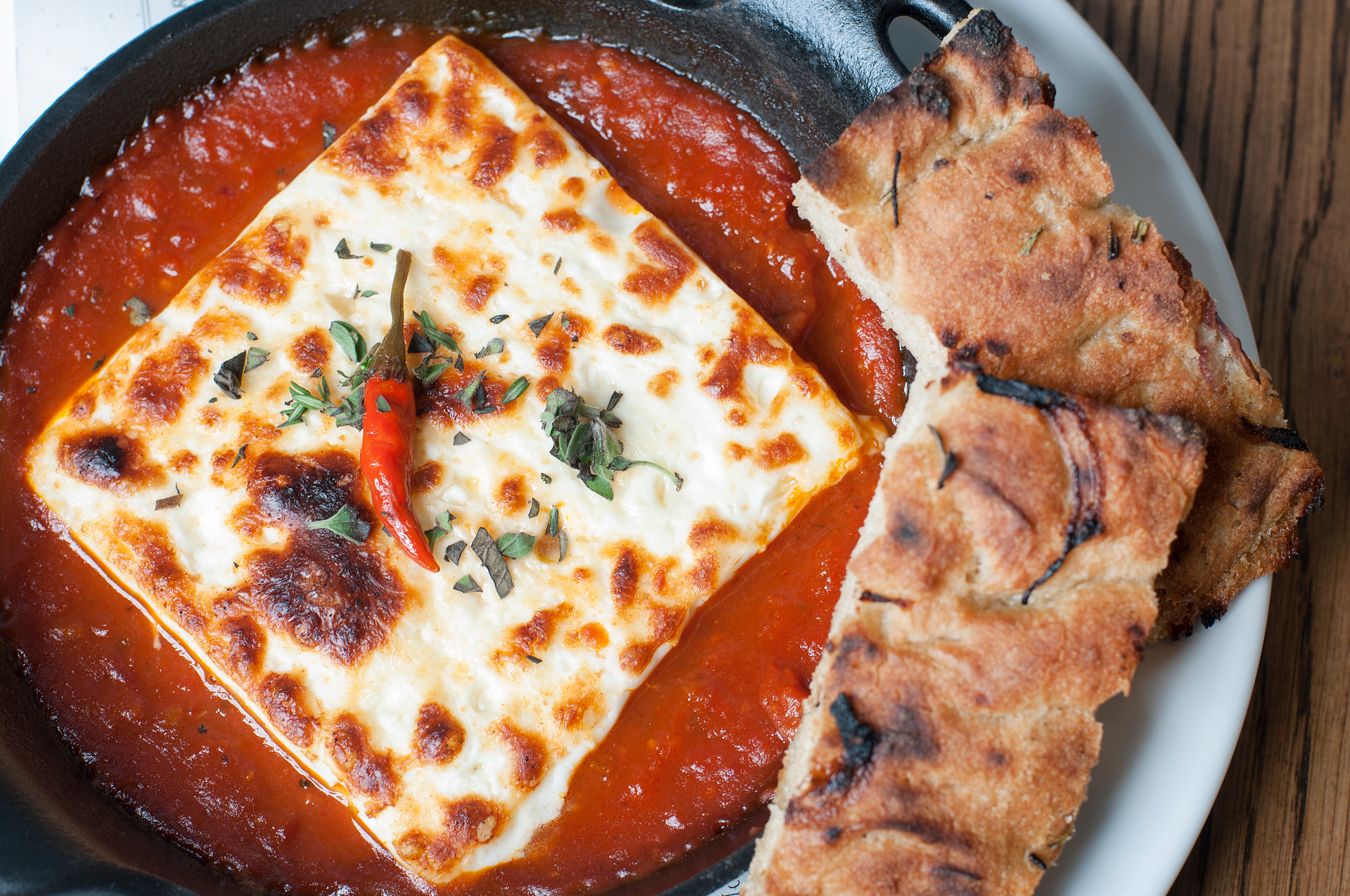 The 1920s-era building on the corner of Ormond and Grant streets once housed a stop on Atlantabs Pulliam/Washington trolley line. Nearby Ormewood Park takes its name from Aquilla J. Orme, the pioneer who extended the trolley line into the area, making the quaint neighborhood of Victorian homes possible. Itbs with a nod to this trailblazing legacy that a few local residents schemed up Grant Parkbs latest dining destination: Mediterranea, a wholly gluten-free restaurant located inside the former trolley station.
While its architecture is all Atlanta, the menu is a virtual tour of the Mediterranean basin, with stops in Italy, Greece, France and Israel. Chock-full of vegetarian and vegan options, it contains not a trace of gluten. But you wonbt miss the stuff. Before diets were a fad, Mediterraneans ate with an emphasis on fruits, vegetables, whole grains, olive oil, nuts and legumes. In this way, Mediterranea's menu is simply a gustatory balance of good eats, paying homage to Old World cooking traditions and encouraging diners to let culture be their guide.
Partners in business and in life, Gerard Nudo (a pastry chef) and Gary McElroy (a celiac) moved to Atlanta two years ago after leaving jobs at the famed Rizzoli Books in New York City. They found the old trolley stop, vacant since 1992, with a gaping hole in the roof, and decided to transform it into something special.
No value assignedToday, the dining room is airy, with oversize windows coaxing beams of sunlight. Notes of jazz waft through the space, a little bit art deco with gray, gold and umber tones, all exposed brick and natural textures. Local woodworkers from the Jack Ellis Company built the swirling bar and cabinetry from a fallen pecan tree in Virginia-Highland. A cozy rooftop deck overlooks Ormond-Grant Park across the street.
Mediterranea serves coffee, baked goods, lunch and dinner. On weekends, therebs brunch. Nudo does all the baking and pescatarian chef Rob Haan runs the kitchen. Sebastijan Katic, formerly of Bacchanalia and Brezza, manages front of house.
Lunch is a smattering of sandwiches, soups and salads. A modestly priced combo of half a sandwich, a cup of soup and a salad will run you just $9-$13, depending on the type of sandwich. Turkey souvlaki ($12) is a couple of feta-stuffed meatballs with cubes of cucumbers, tomato, lettuce and a tzatziki-like herb yogurt sauce on grilled flatbread. The bocadillo ($10) is a soft, fluffy pocket with a remarkable crumb structure for being gluten-free. Inside is the sandwich version of a salade niC'oise b tuna dressed in olive oil and hard-boiled egg. Soups are downright enchanting: thick and robust lentil; zesty cold cucumber with dill.
No value assignedAt dinner, start with the vegan quartet of spreads ($8) b calabrese chickpea, white bean, beet and lemon artichoke b if only to get at that soft, naan-like bread that comes with it. Baked feta ($7) is unexpectedly luscious: a square of cheese nestled in a cast iron skillet with thick tomato sauce and a little bit of heat from chilies. The top is golden brown and begging for a piece of focaccia plunged right in.
Salad choices are plentiful, as one would expect, including a faultless kale Caesar topped with nuggets of jalapeC1o-cheddar corn croutons ($8). The simple standout is the house salad ($6): tender cupped leaves of Boston lettuce, sweet tangles of onion and large slivers of watermelon radish mingling with bright dressing and pistachios.
Each time, entrees had me walking away satiated but not stuffed. Hearty, but light. Pan seared scallops ($24) with both sides crisply seared are pretty as a picture, surrounding a mound of crunchy sweet fennel and tangy pieces of grapefruit. The market vegetable and orzo plate on this occasion was a sizable trio of crunchy haricot vert, orzo mixed with roasted tomato and olives and punchy, flavor-rich rapini ($16).
No value assignedTwin planks of pan-roasted branzino ($26) sit atop the Mediterranean orzo, skins browned, flesh moist and nary a bone in sight. Roast beet risotto ($15) with crispy beet greens is as clever in its use of the whole vegetable as it is comforting.
A sophisticated wine list leans Mediterranean with a price point to fit every budget. Wednesdays, bottles are half off. A bone-dry Picpoul de Pinet with bright lemon notes paired exceedingly well with seafood choices. House cocktails like rosC) sangria ($8) accompany brews from Eventide down the street and a small selection of gluten-free and gluten-reduced beers. Therebs even locally-made kombucha from Golda.
No value assignedDo not skip dessert.B Pre-made items like the super-moist almond pound cake ($2.50 a slice) tempt from the bakery case, while made-to-order items are available off the menu. Nudo's brioche bread pudding, served with warm caramel and blackberry sauce and topped with large blackberries, is richly decadent. The chocolate pot de crC(me ($8) is a knockout. Served in a teacup and topped with fresh raspberries and a little puff of cream, it is dense yet silky smooth with a profoundly deep chocolate flavor. It doesnbt need the cocoa nib pecan tuile that comes with it, but I ate it happily, anyway.
Co-owner Nudo says he and his team tried to create Mediterraneabs menu with foods that are naturally gluten-free. They wanted to use simple, fresh ingredients that would shine in bflavorful, healthy eating.b Mission accomplished. From the gracious, attentive service to the last spoonful of dessert, Mediterranea provides a dining experience to be savored, remembered and sought again.
Mediterranea, 332 Ormond St. SE. 404-748-4219. www.mediterraneaatl.com.
More By This Writer
Thursday April 7, 2016 01:01 pm EDT
Thursday April 28, 2016 12:07 pm EDT
Tuesday September 23, 2014 09:30 am EDT
Find fancy comfort food with a side of nostalgia at Ron Eyester's latest restaurant
Thursday May 14, 2015 04:00 am EDT
Dinner and a show at the new Old Fourth Ward restaurant and lounge
Wednesday November 11, 2015 04:00 am EST
Search for more by Angela Hansberger