Fit for a king
Divanbs new chef Peyman Rostami brings his Persian cuisine from a palace in Oman to a house in Buckhead
Wednesday April 5, 2017 11:00 am EDT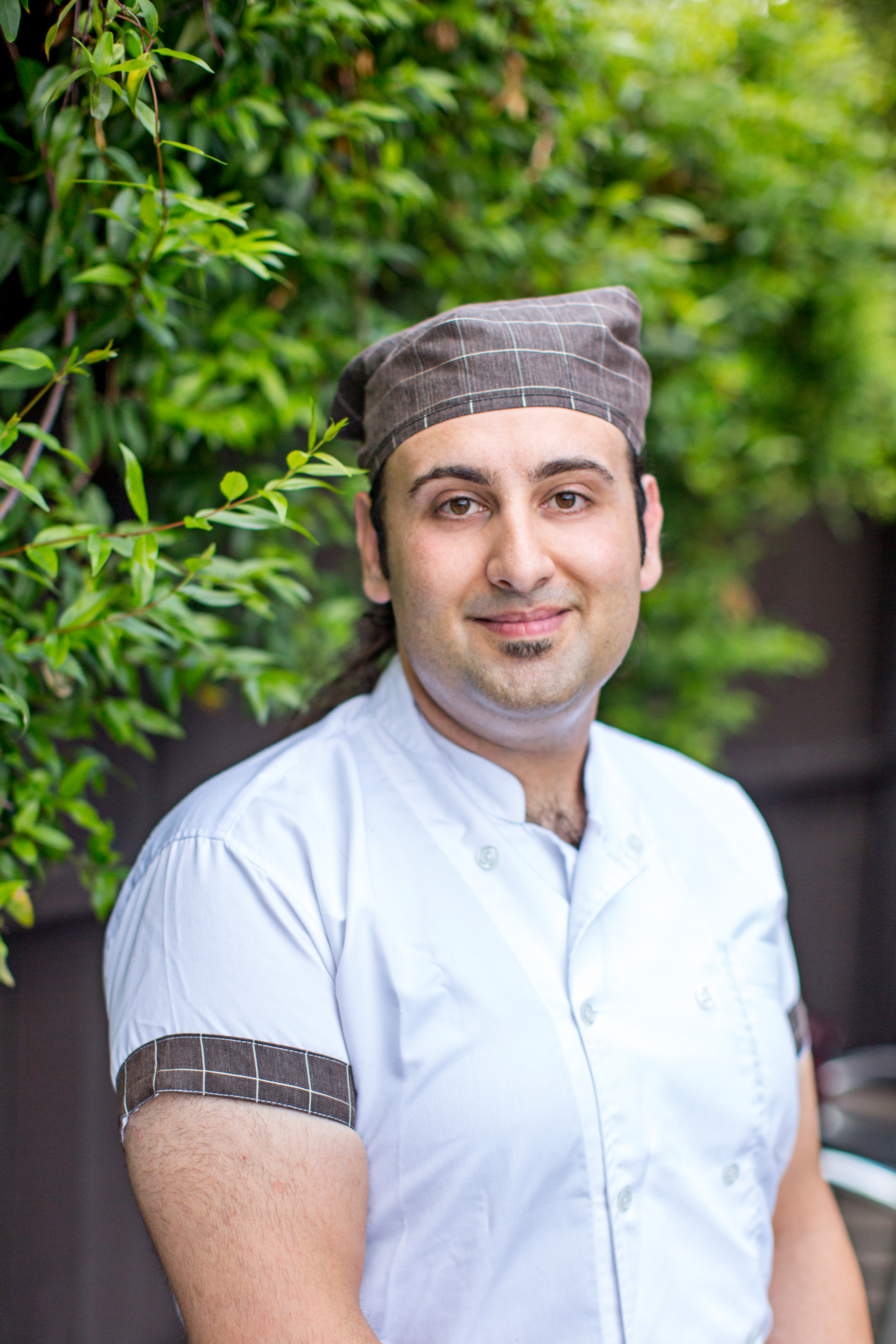 One day, in a land far, far away, a young Iranian boy watched the Pixar film
Ratatouille
and believed, yes, anyone can cook. Today, that boy is an internationally acclaimed chef. His name is Peyman Rostami, and he calls Atlanta home.
Set inside a cozy, cream-colored house in the heart of Buckhead, Divan Restaurant and Hookah Lounge has been serving up artful Persian and Mediterranean fare since 2005. Over the past nine months, chef Rostami has helped fill the menu with traditional dishes, bringing the restaurant back to its roots. bOur plan is to develop more of an authentic Persian cooking with a modern twist,b says owner Max Lofti.
The partnership began when Rostami contacted Lofti from Turkey via Facebook message to see if there was an opportunity to move to Atlanta. The two had never met, but resourceful Rostami was determined to get his food in the door of an American restaurant. After chatting about menu plans, and Atlantabs climate, the two men decided it was the perfect time to introduce the city to tastes of their homeland.
Lofti knows good Persian cooking. The Iran native had dreamed of opening a restaurant since his early days in Atlanta, when he worked in real estate and IT. One day he saw his chance. The quaint 1940s-built house that formerly held Bacchanalia was up for sale. Bacchanalia moved to the Westside and Lofti plotted a brand new menu and trained his chefs in Persian and Mediterranean dishes.
Rostami learned the art of traditional Persian cooking at a hospitality and culinary school in Tehran. He left his career as an engineer and immersed himself in creating everything from Persian ice cream to kabobs. His big break came when he won a cooking contest and was offered a spot on a popular Iranian TV series called The Chef. However, always true to himself, Rostami declined the TV contract, refusing to cut his long hair just to fit in with conservative Iranian TV standards.
Instead, he went on to open restaurants in Erbil, Iraqi Kurdistan and later Muscat, Oman. While head chef at Shandiz, one of the most highly regarded restaurants in Muscat, Rostami was offered an opportunity he couldnbt pass up: bOne day someone said, bI am the manager of King of Oman. If you want to work for him, send me your CV.bb
No value assignedSuddenly, Rostami was private chef to Qaboos bin Said al Said, the sultan of Oman. While he never actually saw the sultan in person, Rostami spent seven months preparing all manner of rice dishes, Persian curries, kabobs and desserts for the royal family. His signature is the kabob koobideh b ground lamb marinated tender with saffron, sumac and onions. Itbs the first kabob he introduced to Divan as well, when he took the job with Lofti. Other specialties hebs brought over from his palace days include pan roasted mahi mahi with fava bean herb rice, basil caramelized sea scallops and chormeh sabzi stew with lamb, herbs and red kidney beans.
In a way, Rostamibs job hasnbt changed much since he left Oman for Atlanta. He still serves food fit for royalty in an elegant old home. Divanbs many dining rooms, alcoves and nooks create an intimate elegance. The main dining room has walls painted a dramatic black while the bedrooms upstairs have been converted to small living room-like lounges for private parties and passing the hookah.
No value assignedThe chef doesnbt speak much English; instead, he prefers to communicate through his food. bHe likes to be more focused in his work than pay attention to how he's supposed to talk,b Lofti says. bHe likes to write and teach and be involved in the cooking community in any way he can.b
Rostami still maintains ties to his homeland, shooting culinary shows for Persian TV Channel 7, which is also available internationally. Thus far, he has completed 13 episodes, long hair and all.
3125 Piedmont Rd, 404-467-4297, www.divanatlanta.com
More By This Writer
Ponce City Market shop raises a glass to booze-free drinking
Tuesday October 11, 2016 05:00 pm EDT
Virginia Highland's Savory Spice Shop offers a wealth of fall flavors for the holidays
Friday November 11, 2016 07:38 pm EST
Thursday December 14, 2017 06:50 pm EST
Once needed for times of scarcity, canning and pickling are now some of the hottest ways to prepare fresh food |
more...
In honor of Valentine's Day, Xocolatl's founders share the story behind Atlanta's smallest chocolate factory
Thursday February 9, 2017 05:00 pm EST
Divanbs new chef Peyman Rostami brings his Persian cuisine from a palace in Oman to a house in Buckhead
Wednesday April 5, 2017 11:00 am EDT
Search for more by Grace Huseth