First Look: Greens and Gravy
Celebrity chef Darius Williams' new Westview eatery has cozy vibes and food for the soul
Friday August 11, 2017 08:57 pm EDT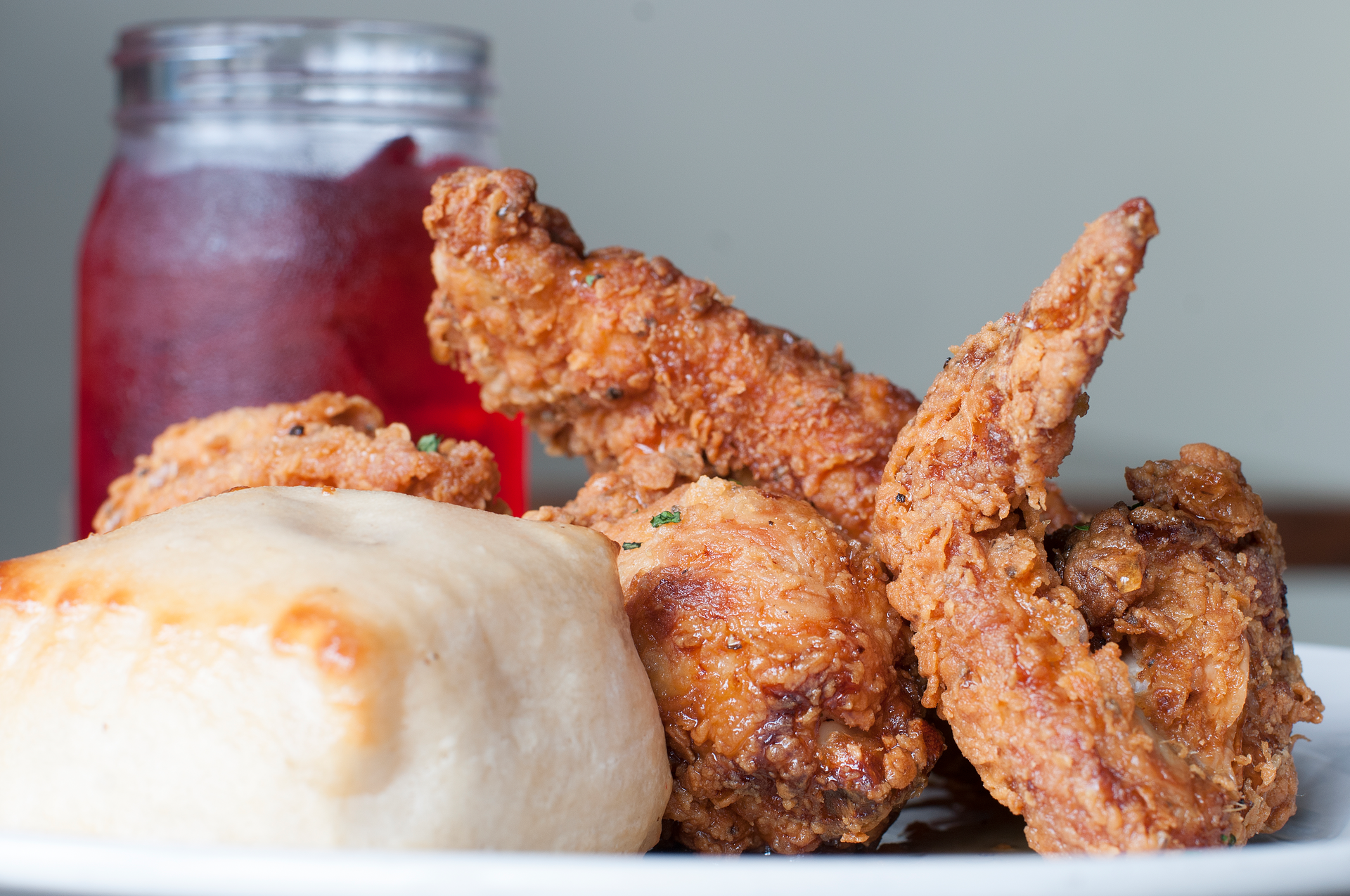 Greens and Gravy is cozy. And this coziness goes along with cookbook author and celebrity chef Darius Williams' new restaurant's entire aesthetic, which falls somewhere between a family reunion and date night. This combination should be familiar to longtime fans of Chicago native Williams, who maintains an impressive online following with his instructional cooking videos that range from silly to soulful and always feature what Williams calls "just good food." His new place is warm and homey while maintaining an understated chicness. In this way, it fits in with the surrounding West End and Westview neighborhoods, where residents still go out of their way to talk to one another and the front porch is as well-decorated as any room in the house. Once diners are sitting this close to each other, it's impossible not to strike up a conversation about those biscuits doused in honey butter or the server's T-shirt, bedazzled with green rhinestones spelling out the restaurant's name.The most important thing potential diners need to know about Greens and Gravy is that they are going to need a reservation. It's
that
cozy. The second thing is that they do not serve alcohol or sodas. But, that shouldn't scare anyone away, as the beverages they do serve sweet tea, lemonade and Kool-Aid offer pure liquid nostalgia.
No value assigned
"As we were building the menu, we asked each other ???What did you have in your grandmother's house?'" says general manager Kristi Dawson. "We wanted to bring that idea into every aspect of the menu." The grape Kool-Aid (my personal back-in-the-day Vacation Bible School favorite) tastes just like childhood summers: bright, sweet and simple.The menu, which Williams developed with his staff over a month, offers all of the comfort food favorites with unexpected vibrant twists. Appetizers include items such as crispy okra ($8), crab and shrimp deviled eggs ($14) and chicken and silver-dollar biscuit skewers ($10). The okra un-breaded, sliced lengthwise and flash-fried is sprinkled with an ever-so-slightly spicy chili lime salt. Most importantly, it avoids that perennial sin of being slimy, demonstrating that the kitchen, led by chef Brian Davis when Williams is on the road, knows its way around its ingredients. The entree section of the menu provides potential Greens and Gravy diners with their next lesson: the portions are huge. It's as if the restaurant has employed that aunt who always commands you to eat more, ignoring your protests as she piles more food onto your plate. The lemon pepper honey fried chicken ($19) offers half a chicken, your choice of two sides and a full-size biscuit. I chose the braised greens with smoked turkey and watermelon chow-chow and the roasted sweet potato grits. And because I can't pass up an extra carb, I also got an extra "fixin" of mac and cheese ($7).
No value assigned
The fried chicken is crispy on the outside and juicy on the inside, and word on the street is that chef Williams eats it every time he's in the building. It leans a bit heavily on the lemon-pepper honey drizzle for seasoning rather than spicing the batter, but at the end of the day, it passes the "fork test?۝: good enough that you just might misplace your fork because you've been eating with your hands so long.Similar to the fried chicken, I could've used a bit more seasoning in the mac and cheese and grits. The greens, however, are as good as they should be for a restaurant with the very word in its name: thick and smoky with a flavor that suggests they've been cooked all day. The accompanying watermelon chow-chow, quick-pickled with a hint of red onion, cuts the greens perfectly. If DJ Jazzy Jeff and the Fresh Prince's '90s hit "Summertime" had a flavor, this would be it.But the dinner's true star is undoubtedly the six-hour braised short rib ($23). "We can't keep enough of it!" Dawson confirms. Just as the fried chicken will make you break up with your fork, the short rib falls off the bone and laughs at your knife in the process. The parmesan potato puree is nearly addictive, with fresh green apple pico de gallo lightening the otherwise heavy dish with a crispy tart accent. The charm of the entire menu is in these light touches and surprises. Williams has taken all of his childhood food memories and added that slightly sparkled touch. The result? A menu of familiar dishes that can still surprise you.
No value assigned
Nobody at my family reunions skips the dessert table (truth be told, most of us peruse it first) and Greens and Gravy commands the same of its guests. The peach cobbler ($10) is more of a skillet cake, drizzled with a Hennessy glaze and topped with fresh white peaches and a scoop of ice cream. Like the watermelon chow-chow and the green apple pico de gallo, the peaches add necessary crunch to the otherwise rich sponge. The banana pudding ($10), made with
real
vanilla custard and bananas, will please even the most particular connoisseur. If you save room for just one dessert all year, let it be this one.

Greens and Gravy has paid attention to the small details. Even the soundtrack, set to accompany the food, was created as a collaboration between Williams and his fans known collectively as the DHIVE and numbering nearly 150,000 on Facebook. It features all of the old-school R&B that will keep your uncles happy or your date on the right track. On one visit, I couldn't help but notice a 10-year-old attempting to Milly Rock in his seat to Frankie Beverly and Maze. But then I realized he was just excited about the fried chicken. 1540 Ralph David Abernathy Blvd. 404-565-2074.
More By This Writer
Linton and Gina Hopkin's new SunTrust Park eatery serves classic American flavors with finesse
Tuesday October 17, 2017 10:56 pm EDT
The long-awaited fast-casual joint brings innovative eats and chill backyard vibes to Chamblee
Monday September 25, 2017 05:53 pm EDT
Friday February 9, 2018 03:36 pm EST
Jaye Price of Castleberry Hill's Wine Shoe knows his grapes and his people |
more...
Celebrity chef Darius Williams' new Westview eatery has cozy vibes and food for the soul
Friday August 11, 2017 08:57 pm EDT
By focusing more on its strengths, the sleek new Midtown eatery could become a neighborhood standby
Tuesday December 12, 2017 11:50 pm EST
Located at the perennially rotating restaurant corner of 5th and Juniper, the new eatery Simon's aims to do what even Ludacris couldn't: stick around in a neighborhood with a seriously ephemeral dining scene. While Midtown's restaurant landscape can often seem to depend on the Fox Theatre crowd that floods in from OTP and tourists in search of Margaret Mitchell, in-town dwellers know that... |
more...
Search for more by Gina Caison